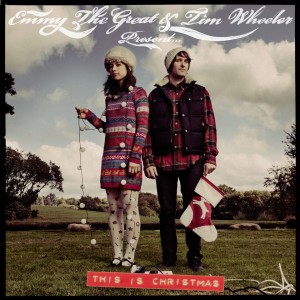 In a year with more full-length festive offerings than any in recent memory, there has still been something essentially 'Christmassy' missing. She & Him provided the Midnight Mass feeling – respectful, stately, something you can be sure your Gran will appreciate while enjoying the pageantry of it yourself; Michael Buble's set of holiday standards is the Queen's Speech in musical form – nobody admits to tuning in but it somehow manages to get on the telly anyway; Justin Bieber, meanwhile, has turned out the quintessential kiddie's present – poorly made tat to keep people who don't know any better entertained for less than a tenner.
This Is Christmas, though, is none of those things. Instead it's a just a shitload of good fun, interspersed with the occasional well-directed emotional tug. It's a bunch of tinsel to brighten up the hall. It's a new set of fairy lights with all of the bulbs working. It's the moment at the Christmas party where you get drunk and slag off the HR department.
There's just one cover – 'Marshmallow World' is a suitably light-hearted romp that dates back to 1949 and has been sung by Bing Crosby, Dean Martin, Frank Sinatra et al. Here it is fitted with some fresh AA batteries courtesy of Tim Wheeler's spiky guitar, while verse two gives a first chance to hear Emmy the Great's disarmingly sweet vocals.
The offbeat charm of the album is never better realised than on two glorious little vignettes – '(Don't Call Me) Mrs Christmas' and 'Jesus the Reindeer'. The first is a classic Emmy lyric about the jealous rage of Santa Claus' insecure other half – "you bring your presents all around the world/but what do you get up to with all those other girls?" – building to a soaring, bell-ringing chorus. If there's a better song about dumping ol' Saint Nicolas this year, I'll eat my elf's hat.
'Jesus the Reindeer' starts with the roll call of 'Dancer, Prancer, Vixen, Comet…'etc that we know and love from any number of Christmas films before adding the Son of God to the list. Clocking in at just 1minute 46secs, Emmy nevertheless finds time to add Joey & Chandler from Friends and Sarah Palin to the group of sleigh-draggers, while somehow managing to make them sound more like a kind of festive X Men than the overworked delivery men they are in reality.
There's plenty more to enjoy, from Wheeler's Beach Boys-aping 'Christmas Day (I Wish I Was Surfing)' to 'Christmas Moon', which revives the 60s girl group vibe Emmy nailed on 'We Almost Had a Baby'. The album ends with Wheeler bashing out a woozy Silent Night on the electric guitar and joking "we'll do a Christmas album". Thankfully, the joke led to this. Now, if you'll excuse me I'm off to hang some tinsel, buy some new fairy lights and slag off the HR department.
Words: Rory Dollard
And if that's got you feeling all Christmassy, don't forget to check out our compilation For Folk's Sake It's Christmas 2011, which is being sold to raise money for the Integrated Cancer Centre. It features songs from The Leisure Society, Kathryn Williams, Devon Sproule, Darren Hayman Caitlin Rose and many more. For Folk's Sake It's Christmas 2011 is available to pre-order now from Bandcamp.