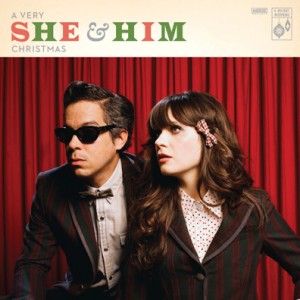 A Very She & Him Christmas was one of those projects that, the moment you heard of its existence, was right. A band who trade in understated beauty and unironic nostalgia seem perfect to cut through the histrionics, clichés and irony that have come to characterise modern festive music. Plus, Zooey Deschanel was in Elf.
Stripped back and understated, this is Christmas music of an old-fashioned kind. There are no church bells, choirs of children, Mistletoe or, thankfully, Wine – even sleigh bells are in short supply. Instead there are 13 classic Christmas tunes – some very familiar, some less so – simply arranged and beautifully sung. Perhaps the album's greatest virtue is the showcase it provides to Deschanel's voice – surely anyone who hasn't already fallen in love with it will do now.
We all know most of the best Christmas songs are those that tackle the blue along with the white, and there's something about the sparseness here that brings a certain melancholia to the turkey and mince pies (well, if they're not going to supply the clichés, somebody has to). 'Silver Bells' and 'Blue Christmas' in particular dovetail perfectly with the overarching mood while there's enough pure sweetness, in 'Little Saint Nick' and 'Baby, It's Cold Outside', to keep everyone smiling. The undoubted highlight though is the album's closing track, 'A Christmas Song', which is pure Zooey Deschanel and pure Christmas.
For some this offering won't feel seasonal enough – perhaps languidly strummed, echoing electric guitars and ukuleles are not the signifiers our festive tunes have embedded in our collective consciousness. Perhaps M Ward's vocals are underused a little too – a handful more interjections might add to the singing-by-the-fireside feel. There's enough warmth and sincerity here, though, to win over even the steeliest of Scrooges. And ultimately, it's just nice to hear the girl from Elf singing Christmas songs.
Words: Ali Mason
For Folk's Sake is even more excited about Christmas than usual this year. Why? Because we're releasing our own compilation album for charity, featuring some outstanding artists. See the announcement here and keep your eyes out for more news on the project very soon.