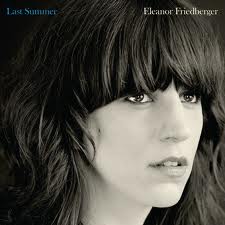 The clocks have changed, the frost has arrived, and we're gearing up for a bumper crop of Christmas albums. Not the most predictable time of year for the UK release of Eleanor Friedberger's debut album Last Summer, but it's a welcome addition to dreary November nonetheless.
Friedberger's been the female half of Fiery Furnaces for the last decade, but this is a more coherent effort than anything previously created with her brother. The breezy and unashamedly retro pop production lends a cheery air to proceedings. That's not to say it's simplistic – the melodies are mixed with 70s funk synth, choral singing, Carole King-style piano and a couple of glorious sax solos.
Initially, the lyrics appear to be rambling, stream-of-consciousness reminiscences of a summer in New York, all delivered with Friedberger's distinctive enunciation. Indeed, the most obviously superficial track, 'Owl's Head Park', describes in intricate detail a trip to Coney Island to pick up a bicycle constructed from stolen parts (incidentally this bike, with its one pink and one white wheel, sounds both ridiculously hipster-cool and absolutely amazing).
Delve a little deeper though, and there is a biting, accusatory air interspersed with a vulnerable melancholy. Maybe it's a break-up album, maybe just a hint that wallowing in nostalgia isn't always a pleasant experience. Either way, cloaked in sunny tunes and New York placenames, you're entitled to read as
much or as little into it as you wish.
So, evocative, charming, and completely dissimilar to the usual releases doing the rounds in November. If the dark evenings are getting to you, or you've prematurely overdosed on Christmas cheer, wrap up warm, put Last Summer on, and drift off into a dreamy US summertime haze.
Words: Natalie Roberts