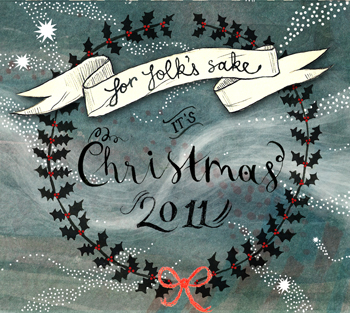 We are terribly excited to reveal that For Folk's Sake will be releasing a second charity Christmas compilation on 28th November.
It follows last year's album, For Folk's Sake It's Christmas (Vol 1) which featured songs from Laura Hocking, Emily & the Woods and Dan Michaelson.
We will be unveiling the artists involved next week, when the album will become available as a pre-sale.
For Folk's Sake, it's Christmas 2011 will be available both physically and digitally via bandcamp. The physical copies feature artwork by the incredibly talented Amber Cassidy. You can follow Amber on twitter @amber_cassidy.
Watch the (literal) space at forfolkssake.bandcamp.com where you'll soon be able to preorder the album and hear sneak previews of the songs. Last year's album is still available to download there too.
Aside from manufacturing, everyone involved in the compilation has donated their time and efforts for free. All profits from the sale of the album will go to the Integrated Cancer Centre at King's College London. From purchasing vital equipment to employing expert staff, the money will have a direct impact on the work of world leading experts at King's. It will help them to discover new treatments for those patients suffering now and find cures so that people won't need to suffer in the future.