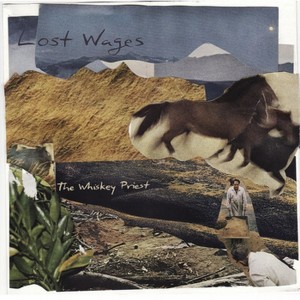 The Whiskey Priest is the solo project of the Sad Accordions' Seth Woods, who uses the alternative moniker as an outlet to showcase disused songs, enjoying a degree of success already with Wave and Cloud in 2010. Now he's back with a seven-track mini-album, full of little quirks that gives this new collection an edge. Highlights include the beautiful 'The Wages of Sin', which is gorgeous, and the slow-burner of 'The Ballad of the Whiskey Priest', which starts out very traditional before these muffled electronic beats take over.
Lyrically it's all about the emphatic statements. 'Watch Me Tessaract' claims that "blue skies are back again but they're never to stay and I'm just trying to warn you" whilst The Sparrows evokes the kind of "I am the thunder" and "I am the desert" lines that have been tried and tested. Woods gets away with it though, thanks to the conviction that comes across in his voice. What a voice it is too. There's plenty of gravel and plenty of range.
Without the voice it's not quite as captivating. Where the album falls down is its instrumental moments. The title track that starts the album feels like a waste and whilst 'Borderlands at Night' sounds nice there's only so much of its six minutes you can take. On the whole though, this is a satisfying slice of Americana. There's enough of a mix of good songcraft and little tweaks to the sound here and there that make this an engaging and worthwhile listen.
Words: Max Raymond