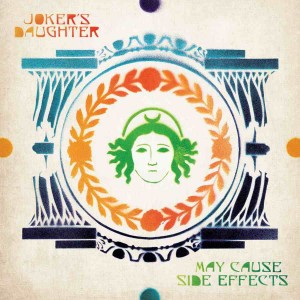 Greek singer/songwriter Helena Costas' second album was always going to come under scrutiny immediately upon release. Following up a debut produced by none other than man-of-the-moment Danger Mouse inevitably brings its own pressures, putting aside the expectation of an audience waiting to see whether Joker's Daughter are consistent performers.
This offering is recorded with a new band, but any cautiousness one may have expected upon hearing this is dispelled immediately by first track, and single, 'Mind of Gold'. The sound is confident and adventurous. A multitude of instruments, including kooky keys and Wurlitzer give it an unpredictable circus vibe, but its regular drum beat and solid structure remain firmly rooted in pop, and Costas' vocals are gentle but authoritative throughout. The song ebbs and flows delightfully and sets the tone for a varied and refreshing collection of tracks.
Second track 'The Book That Drew Itself' has an ultra-traditional, almost medieval feel, with penny whistle featuring and an eerie reverb on the vocals to fill it out. By contrast, 'Giants, Snakes and Dinosaurs' has modern sounding keys parts and samples aplenty, and a catchy blues riff to push things along.
It is this constant, bold fusion of old and new and a chopping and changing of styles that catches the attention throughout the album and keeps you on your toes. But it isn't just musical elements that depart from the norm. Lyrically, Costas' vocals move away from traditional stories of heartache and lost love. Each track tells as tall a tale as the previous one, each containing nuggets of craziness and imagination, such as 'clone of me building stone castles on the moon' and 'bearded cloak of kings he wore', and nobody has to look too far for the oddities in 'Moaning Mini Gets Beamed Up By A U.F.O.'. Costas also appears to draw on the ancient mythology of her homeland in tracks such as 'Orpheus', which seems an untapped resource.
So, this eclectic mix of songs is a great showing of creative juices flowing. It might be a little long at 14 tracks, and the middle of the album could be cut down a little, with tracks such as 'Knowing' lacking intrigue or structure. That aside, Joker's Daughter can be pretty proud of their novel approach.
Words: Simon Morgan