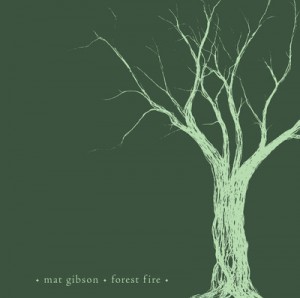 Mat Gibson's eagerly awaited follow-up to the acclaimed debut Home Movie has come in the form of the wonderful Americana mini-album, Forest Fire. Aided by his brilliant Ryan Adams-esque voice and emotive story-telling, Gibson has created a collection of songs with more depth than most full-length albums could dream of.
Canada and indeed the whole of North America (where Gibson spent a great deal of time) dominate the feel of this album and at times you get the feeling a younger, more sombre Bruce Springsteen is emerging.
The opening number, 'Lord Only Knows' is a sweet ballad which takes you on a journey to the deep south of America with its lush country tones. You'd be forgiven for thinking you were listening to a traditional 1920s cowboy crooner. And this is what Mat Gibson excels out throughout this record. He is able to create music that spans different eras and even different continents without appearing like a copycat.
Although Forest Fire has no pounding intensity as an album, Gibson still avoids his record becoming dull, a word which is unfortunately too often used to describe "slow" albums. He manages this through his brilliantly thoughtful lyrics. He truly shows himself to be a poet, creating beautiful scenes in your mind. The title track is the perfect example of his prowess as a writer. A song filled with romance and mellowness, 'Forest Fire' is a sumptuous ballad with a serene chorus that sends shivers down your spine.
Another highlight of the album is the beautiful 'Jonah'. Gibson refers to the iconic Biblical tale of Jonah and the whale to create a haunting work which will strike a chord with anyone feeling helpless or lost.
If you're looking for an album that gives you surprises and thrills at every turn, look elsewhere. However is you're looking for songs that leave you with a sense of warmth, tranquillity and romance, then you may have found your musical soulmate in Mat Gibson and his Forest Fire.
Words: Carly Goodman
[soundcloud%20url=%22http://api.soundcloud.com/tracks/17523524%22]