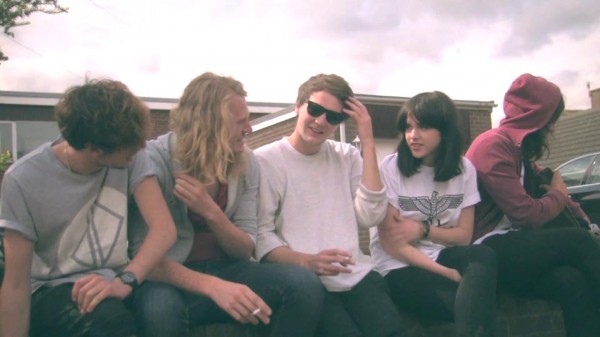 Let's Buy Happiness – Dirty Lakes
After their ethereal debut with the single Six Wolves and its enchanting B side, Wood Rings, and their chirpy, rhythmic follow-up Fast Fast,, Let's Buy Happiness have chosen to combine the two sounds for their latest release, Dirty Lakes.
Anthemic, twisted organ sounds draw your ears in, just as a 'good hot meal' draws in singer Sarah Hall. Hall's voice is as unique as her words are enigmatic; I confess to not always understanding her poetry, but at the same time I'm aware it makes perfect sense. In the case of Dirty Lakes, I believe it's about overcoming the way 'your guts will twist' when faced with an uncertain situation, but letting go and getting stuck in – feeling the fear and doing it anyway, if you like.
As for the sound, it's melodic and possibly their catchiest chorus to date. If their previous two singles have built the band a devout following, this is the number that can capture the attention of the friends of their fans. Like all Lets Buy Happiness products, it doesn't outstay its welcome at less than three minutes, satisfies entirely and leaves your ears in a state of warm contentment. The equivalent of musical earmuffs.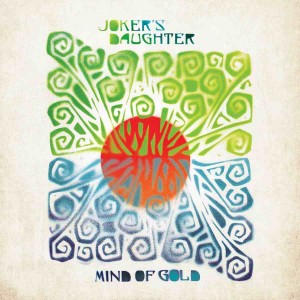 Joker's Daughter – Mind of Gold
After Joker's Daughter's well-received debut LP The Last Laugh,  Helena Costas is back with Mind of Gold, a intriguing folk tale held together with a delicate soprano vocal and some mighty drums.
Costas' Greek heritage clearly comes through in her use of tonality and instrumentation, blending traditional folk instruments with a collection of more progressive devices such as pitch bending synths and organs. The mix of acoustic and electronic instruments create a bold backdrop to the intricate imagery depicted in Costas' dreamy narrative.
Mind of Gold was produced by Mike Lindsay (Tunng) so I'm curious as to whether former collaborator Danger Mouse is back for the next album,  May Cause Side Effects. Evidence of a less skilled producer is present on both B sides, particularly Handful of Nothing, which uses unsubtly programmed drums and tinkly electronic sounds and undoes the skilful first impression made by the lead track and is ultimately, a massive turnoff that depicts Costas as a much weaker singer than she actually is. Essentially,, download Mind of Gold but don't bother with the extras,.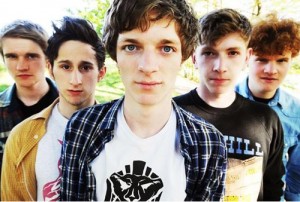 Dog is Dead – Hands Down
An appearance on the most recent series of Skins and the April signing of a deal with Atlantic Records – the major label currently finding local success in self-starting phenomenon Ed Sheeran – has marked kick-started a sense of momentum for Nottingham five-piece Dog is Dead. This is their breakthrough year, the time they establish their brand of intelligent – yet structurally classic – indie pop.
Hands Down is the perfect example of the act's sound. A big build up to a sing-a-long chorus,  wall of sound production and a trill filled middle eight combine to create what should, by rights, be a radio hit. It begins elusive and subtle, like a Bombay Bicycle Club number, before lifting itself away from such comparisons with the addition of sparkly synths and an outpouring of melodic, choral sounding joy. And it feels like they're singing to me.
Hands Down [NEW SINGLE] by Dog Is Dead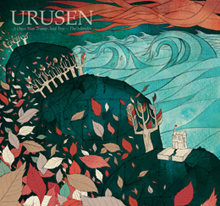 Urusen – A Once Was Tramp and Tree / The Islander
I was first introduced to Urusen via their track Hugo, an amusing ditty about Venezuelan president Hugo Chavez ("I wanna go, wherever you go Hugo") it's no surprise that the latest double A side release from Urusen is endlessly uplifting. The subject this time is less political and more personable, and the music takes a more solid direction in support of this.
Genre-wise, Urusen have reliably stuck to their modern folk roots, with poppy sensibilities. Lyrically The Islander proves the band are on form, keeping the message uncomplicated but poignant; "The hares ran in the wood / No faster than your mind / Could carry you away / To the land you wished to find". A thudding four-to-the-floor bass drum gives sway to soothing cello and vocals sigh and ah, moving you along with the story of the song.
A Once Was Tramp and Tree illustrates its point more delicately, choral vocals and flowing guitar and strings support a memorable melody. Fans of acoustic folk will love it – and there's enough strength in the material here for strangers to the genre to enjoy too.
Words: Frankie Ward