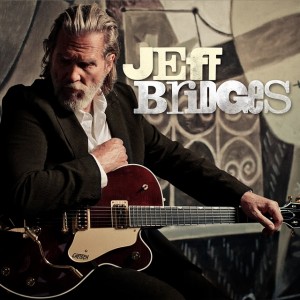 The blurring of the lines between rock stars and movie stars has had a mixed track record of success over the years. The Imaginarium of Doctor Parnassus collected the combined acting talents of Heath Ledger, Johnny Depp, Jude Law and Colin Farrell, but all of them were blown off the screen by a, quite literally, devilish cameo from Tom Waits. Yet for every such performance there is a gurning Mick Jagger bit-part waiting to melt your eyes.
The reverse – well known actors turning their hands to music – has an even more chequered history. I'm thinking Russell Crowe. I'm thinking Keanu Reeves. I'm thinking, for the first time in about a decade, Kevin bloody Costner. None of those approached their second career with quite the adoration Jeff Bridges has behind him and it helps, of course, that he turned in a knockout performance as a grizzled country singer in Crazy Heart a couple of years ago.
Doubtless, his Oscar-winning showing in that film was the inspiration behind making this record, with legendary producer T Bone Burnett reuniting with Bridges following their successful Hollywood pairing. Opening track 'What a Little Bit of Love Can Do' is a rockier number than Crazy Heart's Bad Blake would have sung and that is probably the point – to establish this as Bridges' work and not merely another performance.
It's a nice enough number, but if anybody is ever casting for a Tom Petty biopic, Bridges should take this along to his screen test. The stately country ballads that underpinned Crazy Heart are not ignored though, and the likes of 'Falling Short', 'Nothing Yet' and 'Maybe I Missed The Point' – all built around Bridges' weathered vocal and Burnett's classy, pedal steel heavy arrangements – work well.
One problem Bridges cannot escape is his stardom and the effect that has on the listener. Where someone like Seasick Steve can pull off a hard-luck tale with full credibility, it's hard to hear Bridges growl "you can have a mansion, you can have $20 million in the bank…but it just won't be enough if you have everything but love" and not see it as the musings of a man with a mansion and $20million dollars in the bank.
Words: Rory Dollard