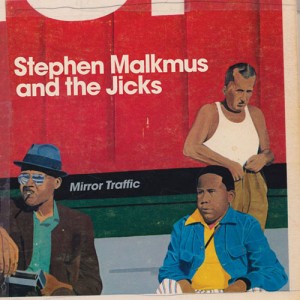 There's something about the men behind boring band names. Just as the blunt mundaneity of Elbow's name belies their swooning instrumentation and the wry lyrics of Morrissey served to emphasise the irony in The Smiths everyday moniker, Pavement were always one of the more interesting in America's alt-rock scene of the nineties.
In his solo releases since, Pavement's lead man Stephen Malkmus has been wise not to shovel the influence his time at the peak of cult America had on him. On his newest record Mirror Traffic, Malkmus floods us with fuzz guitar and frenzied lyrics. The latter tears up 'Spazz', which moves wonderfully from streams of conciousness that are fast and vocal one moment and longer instrumentals the next. The whole song reeks of living in the moment – and singing "All roads seem to lead to China" it seems quite likely that Malkmus is.
The songs present here are either a little too short or a little two long. Unsurprisingly, it's the shorter ones that work better. Pavement were always best playing it short and sweet, and here with songs like 'Long Hard Book' the pace, though slow, fits better into a concentrated format. It's on the longer songs like 'Brain Gallop' and 'Share The Red' that the mind drifts back to older, more interesting Malkmus. It never lasts, though. Mirror Traffic is a fun and nostalgic trip that perhaps doesn't inspire new loves as much as recent album Real Emotional Trash did, but rarely falters on the path of entertaining.