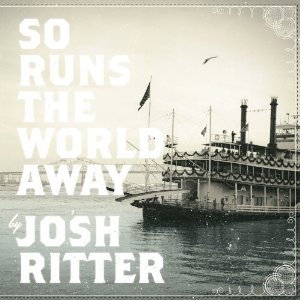 Josh Ritter's latest album 'So Runs the World Away' has taken almost two years to make — it's an ambitious and wordy offering but don't let that put you off. You'll enjoy following the twisting narrative of this scholarly poet.
Most impressive is "The Curse" which describes an epic and tragic relationship with original and muscular lyrics, "She dusts off the bed where 'til now he's been sleeping/And under miles of stone, the dried fig of his heart/Under scarab and bone starts back to its beating."
Ritter's voice is a blend of Conor Oberst, Paul Simon and a less tortured Ryan Adams. It's his complicated narratives that are his esoteric contribution to the alternative folk landscape.
There are some extraordinary lyrical references in bouncy folk tune 'Lark,' "The oxygen in priestly green/The answers dressed in labyrinthine/The telescopes atop the mountains of ecstatic vision listening/To the heartbeat of a lark or the lark in my heartbeat."
It comes as no surprise that Ritter has also been writing a novel — 'Brights Passage', which will be published in the summer of 2011.
Words: Michael Sommervile