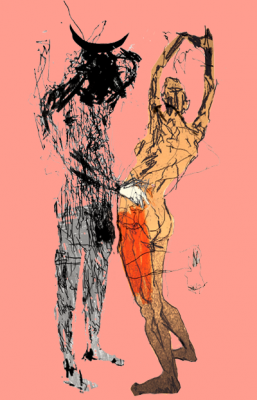 Laura Marling has today launched an interactive website featuring a poem and artwork inspired by her song 'The Beast', taken from her third album A Creature I Don't Know.
The poem is narrated by Gil Landry from Old Crow Medicine Show. With illustrations by art collective Shynola.
Laura Marling told Q Magazine: "The first line of the poem was essentially what sparked the idea's behind the album, for one reason or another though, it didn't seem to work as a song. It came from a quote from Thomas Jefferson that I came across in a book called Sisters Of Fortune, talking about the abolition of slavery 'We have the wolf by the ears and we can neither hold him nor safely let him go.' Blind plagiarism.
"It certainly does relate to the song but it's a re-appropriation of that thing, what ever it is."
Visit the site here: The-bea.st
The Beast was a creature I did not know,
I held him once and could not let him go.
He was full of power that did not show,
and there lay in him a rage that must not grow.
A demented simper swept his face,
as he turned his head to note our place.
That moment that I lost his gaze,
I begged the Gods to hear my praise.
The Gods that sat atop of us,
who watched unmoved and yet discussed,
what story could they make of me?
What horrors would they care to see?
I threw up my hands of insanity,
of course my soul (the beast) was free.
And he made to sink his teeth in me,
for pain to know what my taste might be.
And as well for me that he did check,
for as I held him in by scruff of neck.
I felt the warmth of creatures breath,
He kept me warm from life till death.
No word from me his darling,
Since my frosted fingers fled,
No known to him nor no one,
What storms raged upon this head.
I tried to speak and so to tell,
Of where my courage tripped and fell.
But for my soul it stands to keep,
Alas for him I could not speak.
Though he did try my heart to swell,
To low me sweetly into his spell.
My lips were sealed and so my heart,
I stepped unknown into his art.
As finer creature you may be,
and safe under arm of your great tree.
The more you bent and shook for me,
The more inclined I was to flee.
To run from love and all its pains,
then offer up ones arms in chains.
I'm glad you do not give yourself to me.
My touch is savage you shall see.
When excused I wondered forestry
And prayed no child be born of me.
I begged the branches shake your trees,
The world could do with no more beasts.
But without my ask I stretched and swelled,
And from my depths a child expelled.
My hands embraced an empty womb,
I fell and curled, prepared for tomb.
I bent to gaze at tiny Beast,
entranced by how my pain had ceased,
I'd bared it for this child at least,
His eyes flashed flames for me, his feast.
This was sure the child that Beast be got,
That fearsome stare I'd not forgot.
But he cocked his head as though in fright,
and bounded off into the night.
"Goodbye my child, remember me,"
I whimpered long pathetically.
Another Beast left me to bleed,
my own creature had took his leave.
I'm sure the Beast told lies to me,
That we inter-love willingly.
We have choice of ways you see.
But does creature know what creature will be?
For as soon as Beast had stormed my life,
I was held by love at throat by knife.
From there Beast had his claws in me.
And his hold left marks eternally.
The Beast was my only firing stone,
But took my plea leave me alone.
And now at night when I am cold,
I strike my flint upon my bone.
He loved me once of that I'm sure,
He said he'd love me evermore.
Now I sit and stare at an empty thrown,
Left to bare this life alone.
My son has fled and he has grown,
My wounds are healed by scars still show.
I had loved once but let it go,
The Beast was a creature I would not know.