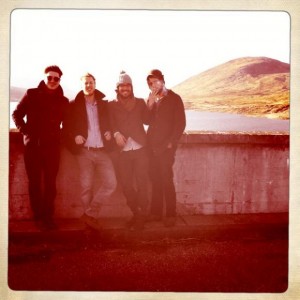 It's been an amazing year for Mumford & Sons. Over a million copies of Sigh No More have been sold. They've received Grammy Award nominations and played live on US network televsion with Bob Dylan. So how do you follow that?
With a fundraiser for non-league football club AFC Wimbledon, obviously. The band have announced they will play the New Wimbledon Theatre next Monday (May 9th) to raise cash for the Conference National side, who are aiming for promotion to the football league this season as they head into the end-of-season play-offs.
It's probably best we let the band explain the reasons for this one.
"Many a time on their travels, Mumford & Sons have been posed the question, in various forms, what are their inspirations, what makes them tick, what lays at the beating heart of the band? Well the answer to that question could probably be summarised in the following threefold manner;
1. a love of music
2. friendship
3. football.
"So when a team that lies particularly close to the hearts of two members of the band – AFC Wimbledon – approached them to enquire if they'd play a show to raise funds for the club (which is on the verge of a return to the football league FYI) they were only too happy to oblige," they said on their myspace page.
Tickets are available starting on Tuesday morning from www.ambassadortickets.com/wimbledon, by calling 0844 871 7646 or in person at New Wimbledon Theatre Box Office (ticket prices range from £35-£45).