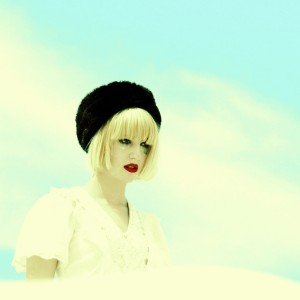 The long wait for a Beth Jeans Houghton album is almost over.
Beth has not been heard from since the 2009 EP Hot Toast Volume One (we gave up waiting for Volume Two some time ago) but today emerged to announce that her debut album will come out on Mute this Autumn.
She's even (partly) explaining the delay.
"I'm going to utilise the 'due to unforeseen circumstances' line and leave it at that," the 21-year-old said. "I spent a substantial amount of the last year in Los Angeles falling in love with the city, which is a first for me. I usually go for guys."
The album has been recorded with producer Ben Hillier (Blur, Elbow, Depeche Mode, Doves), and Beth describes it in her own unique way.
"I see this album as an animal I'm preparing to ride," she said. "Grooming it, feeding it, braiding its hair, and I feel that Ben has built me a saddle that is both practical and comfortable to use."
Because Autumn is a long way away, she's giving us all a free download of 'Dodecahedron' to keep us going in the meantime.
For those that don't know what a Dodecahedron is, here's your answer.
"The night before I wrote it I had a dream that consisted of me running up to strangers in the street and asking them what a dodecahedron was, but no one knew," Beth said. "I later found out that the ancient Greeks believed the Dodecahedron is a symbol of the universe and represents an idealized form of divine thought. Take from that what you will."