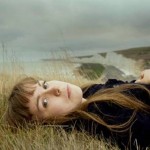 Put two uber-talented 20-year-olds together and what do you get? Well in this case it's a tricycle-filled music video in which every frame and note is a beaut.
Artistic wonderwoman Anika Mottershaw and dream-folk darling Alessi Laurent-Marke got together to produce the video for new Alessi's Ark song 'Wire'.
The song is taken from her second album Time Travel, which will be released on Bella Union in April.
Watch video:

Download 'Wire':
Alessi's Ark – Wire by Bella Union