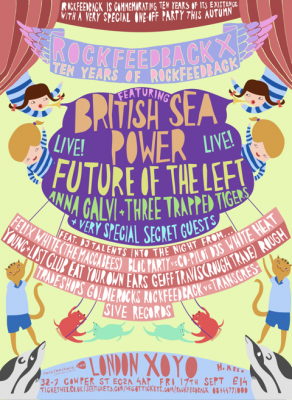 Website and promoters extraordinaire Rockfeedback are celebrating their anniversary with a London show "Rockfeedback X: Ten Years of Rockfeedback", which featuring a stellar line up of gigs and an exhaustive list of DJs.
On 17th September RFB will take over new East London venue XOYO with performances from British Sea Power, Future of the Left, Anna Calvi, Three Trapped Tigers and some secret guests.
For more information and tickets visit Rockfeedback.com. Doors open at 8pm and goes on until 3am.
Rockfeedback's founder Toby – who started the website in his bedroom when he was 15 – said: 'We're thrilled with the standard of artists that have wanted to perform – we've actually been trying to book British Sea Power for one of our live events for what might as well be a decade now, so it's apt we finally got them!"
Rockfeedback since spawned Transgressive Records, which has worked with artists including Johnny Flynn, Regina Spektor and The Shins.
To win a pair of tickets to the show just tell usthe name of British Sea Power's first album. Send answers to RFBcomp [at] forfolkssake.com by noon on 14th September. The winner will be notified the same day.