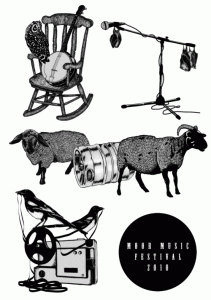 Continuing our quest to bring you the best of small festivals across the UK, we bring tidings of another Yorkshire-based event, the independently-run Moor Music Festival, which is now in its sixth year. Taking place from 12th to 15th August in North Yorkshire, the weekend will pay host to a remarkably varied range of artists, including those appearing on the fascinatingly named Earl Hickey stage (including Ellen and the Escapades, Tubelord and Brute Chorus).   The focus is very much on local(ish) music, with the emphasis placed firmly on showcasing new, exciting acts.
There's a selection of tents and stages playing host to chill-out areas, well-stocked bars and acres (by the looks of it) of comfy squishy seating arrangements.  With only 2,999 other people to contend with, you're likely to find yourself a soft spot in which to wallow somewhere.
They've also introduced a few brilliantly quirky touches this year including the Garden Shed (a stage with space for just one spectator, for that extra intimate experience), miniature golf, treasure hunts, a 500 strong kazoo jam, and revellers get a 'grow your own festival' goody bag to take home at the end of it all.
Tickets are available for individual days (£35), or with camping for the whole weekend (£85) here.  Watch this space for a full Moor Fest round-up from our northern correspondent in due course.
Words: Helen True