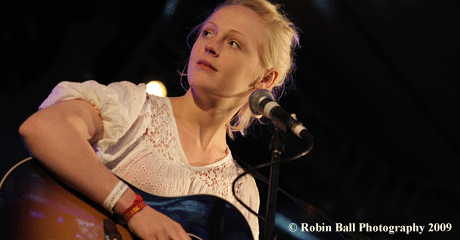 White Stripes and Raconteurs frontman Jack White has revealed that he will release a Laura Marling track on his label Third Man Records.
The song, which was recorded in White's Nashville studio while Laura was on tour in the US, will be released as part of the label's Blue Series – 7-inches imprinted on blue vinyl.
Speaking to BBC Radio 1 Newsbeat, White said of the recording: "It was perfect – one take. She's gorgeous. Gorgeous voice and an incredible person. A wonderful girl."
"Somebody turned me onto her a few months back. If people are coming through town I try to catch up with them and ask them if they want to come by before their show and record something. It's really beautiful what she recorded."
Laura went down a storm at Glastonbury's Park Stage on Saturday night and will be playing the Serpentine sessions with Fanfarlo, Alessi's Ark and Smoke Fairies on Thursday before heading to Hop Farm to appear alongside Bob Dylan and Ray Davies on Saturday.
See Laura's 6 Music session from Glastonbury here.