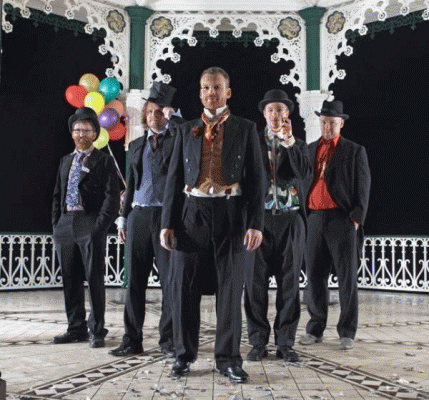 This is, by necessity, a brief and information-packed news item, because The Miserable Rich are on tour right now and will stop being on 19th June.  They are fantastically talented musicians with a proclivity for reviving old, neglected instruments whilst writing lyrics entirely based in the now.  See below for a spiffing example, alongside a rather beautiful and innovative video.
Apologies to those of you who've missed this whistlestop tour, but here're the remaining dates.  I for one am feeling pretty grumpy about not living in any of these places:
9 Jun 2010 The Library, Leeds
10 Jun 2010 Glee Club, Birmingham
11 Jun 2010 Buffalo Bar, Cardiff
19 Jun 2010 West Hill Hall, Brighton
Besides all this vital information, you'll be pleased to hear that the band's latest release, Of Flight and Fury is out and about in various charming record stores, and if you want to try before you buy you can do so on Spotify (Spotify Open is now free!  Free!  Scream it to the rooftops).  Just click right here:  The Miserable Rich – Of Flight & Fury
The fellow who fronts up The Miserable Rich is called, rather wonderously, James de Malplaquet, and he has provided the devoted fan with some exhaustive information regarding each of the tracks on the album.  Of first single, Chestnut Sunday, he says:
'I sometimes do things I know I shouldn't, whether they be illegal, immoral or just plain unhealthy. This one is about how small I feel when I face up to it.
'Chestnut Sunday itself is the day in Bushy Park when Londoners – families, lovers – would traditionally walk through the park admiring the chestnut blossoms in full bloom. Sunday is also the day for recovery, perhaps with a heavy heart, perhaps a glint in the eye, from the excesses of the night before.
'Listen out for the bit of classical at the end. Naughty but nice.'
So, yes.  Watch, read, listen, and glory in the stunning nature of this wonderful stuff.  It is absolutely the sort of thing that makes life nicer.
Words: Helen True