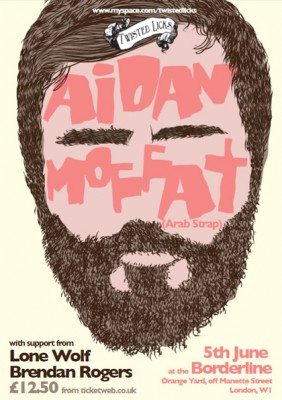 Arab Strap front man Aidan Moffat is playing in London this Saturday and we're giving one lucky reader the chance to win a pair of tickets.
Aidan's playing the show solo and will be performing songs from all his various guises, the Best Ofs, Arab Strap and solo material.
Support comes from Bella Union's Lone Wolf and Brendan Rogers.
To be in with a chance of winning just comment below or email win[at]forfolkssake[dot]com before noon tomorrow.
http://www.myspace.com/aidanmoffatmusic
http://www.myspace.com/thisislonewolf
http://www.myspace.com/brendanpatrickrogers

AIDAN MOFFAT (ARAB STRAP), LONE WOLF, BRENDAN ROGERS, The Borderline, Orange Yard, Off Manette Street, W1D 6JB, Sat 5th June 2010