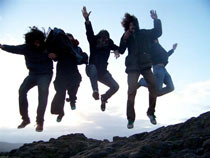 I Said Yes's track 'When The Night Comes In' is now available for free download from Track in the Box.
I Said Yes are a 5-piece band from Oxford, London, Bristol, Edinburgh, Wiltshire and Windsor. Hugh from the band sent FFS a very nice email back in January 2009 asking if we'd listen to their music. We did and we were blown away. We got ISY to play the very first Allotment night and crammed them into the Betsy Trotwood in support of Broadcast 2000 and Al Lewis & Sarah Howells. The band have recently been recording music in Somerset, so keep an eye on their MySpace for new songs.
Track in the Box is the latest project from the Green House Group, which is also responsible for Record Drop, and has fingers in pies like Blissfields and The Flowerpot. They say, "Track in the Box is a daily newsletter to help you discover (and sometimes rediscover) great bands." Subscribe here to get free music in your inbox every day.