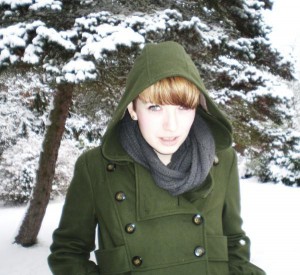 We are delighted to announce a new FFS-curated Allotment show with performances from Elena Tonra – who features on the Communion Compilation, the oh-so-lovely Sam Airey and our newly-discovered favourites Dear Winesburg at London's Slaughtered Lamb on Sunday 9th May.
When Elena Tonra's track Peter featured on the recently released Communion Compilation it caused quite a stir among listeners intrigued by this elusive songwriter. Elena met the Kev Jones at Cherbourg gig two Christmases ago. Kev said: "she said she was a singer songwriter so I went home and listened to her MySpace – I was blown away by her voice and the honesty of her lyrics."
Sam Airey's beautiful EP Season's Change (review coming soon) was recommended to FFS by a friend. We were instantly taken by his beautiful melodies and gentle finger-picked folk.
We came across Dear Winesburg headlining the brilliant  A Folking Good Night. Frontman Chris Kreinczes's vocals are reminiscent of Charlie Fink with a vibrato that'll blow your socks off.  He's backed by layered harmonies, mandolin, double bass, violin and girl-driven percussion, our favourite kind. Keep your eye out Emma Kramer who also plays with Peggy Sue and Mariner's Children.
As if the three lovely acts aren't enough, there'll be tiffin and cakes a-plenty served by FFS's resident cake lady, Helen.
Tickets are £5 in advance. Available from We Got Tickets.