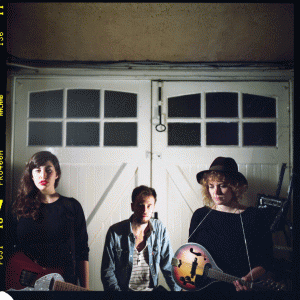 Brace yourselves, folk fans, for more Peggy Sue news than you can shake a drumstick at. Firstly, Peggy Sue released their single, Watchman Today (22nd March), a spiffing video of which is below. Besides that lovely news, in a fit of spring-cleaning madness Peggy Sue have decided to offer their fans, and indeed anyone who likes free stuff, a mixtape of their releases to date for free download. This generosity precedes the release of their debut album, Fossils and Other Phantoms, on 5th April.
The mixtape, which the band describe as their 'not necessarily greatest hits in reverse chronological order' was initially put together as a very limited edition release before Christmas, but they thought better of such exclusivity and are now making it available to all.
The tracklisting is very pleasant indeed, as you can see:
1. Watchman (live)
2. Hatstand Blues
3. The Conservationist
4. Lazarus
5. Alice in the Kitchen
6. Clockwork
7. Pupils Blink
8. Horror Movie Marathon
9. New Song
10. Hadlock Padlock
and the download is available here.
Peggy Sue have a lot more lovely stuff going on, including a special album launch at The Garage, London on Monday 29th March. Support will come from a nautically-themed assortment: Dan Michaelson and the Coastguards and Mariners Children.  Get your tickets quick-like.
There will also be a chance to catch Peggy Sue at Rough Trade East on 6th April, which should go some way to help ease the pain of returning to work after the bank holiday weekend.
Peggy Sue – Watchman from Brittney Bean on Vimeo.
Words: Helen True