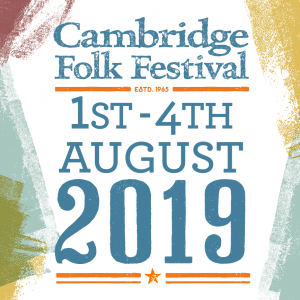 Cambridge has always been much more than 'just' a music festival, and this year's programme again demonstrates what has become their trademark: forward-thinking, confident belief in the potential of people gathered together around music and ideas.
Throughout the weekend there'll be talks, discussion panels and campfire stories from Index on Censorship, the international organisation defending the free expression of artists, writers, journalists and campaigners worldwide, a campaign centred on the belief that every person, no matter their views, has the right to freely express them. There's surely no better setting for such discussions, given folk music's deep history in speaking truth to power.
Proving once again that music festivals can be a force for good, Cambridge promises to keep building on its widely regarded environmental credentials, and this year is continuing to make provisions for artists and audiences to be entirely free of single use plastic.
On paper, the lineup highlights include the three heavyweights gracing the main stage on Friday night: Jose Gonzalez leading to Graham Nash (of Crosby, Stills and Nash) and finally Calexico with Iron & Wine. Roo Panes, whose collaboration with the modern slavery fighting charity International Justice Mission saw the release of 'Warrior' on 30 July this year, plays Stage 1 on Sunday. This year's guest curator, Nick Mulvey, first played the Festival's emerging talent stage, The Den, back in 2012, before the Cambridge born and bred singer-songwriter found fame beyond the fens. Returning with his own main stage set, he has also invited five acts across this year's line up – Rhiannon Giddens has left some big curatorial shoes to fill, having excelled in the role last year.
The line up itself speaks volumes of the Festival's core principles. Representing a healthy balance of internationally famous and locally emerging talent, the lineup has something to offer to every taste of the folk spectrum. From Algerian desert rock (Imarhan, Stage 1, Sunday) to young traditional folk (Jack Rutter, The Den stage, Saturday), there'll be all kinds of folk tinged with blues, americana, dance and pop playing on the Festival's four stages.

Rosie Carney pays The Den stage on Saturday (probably without Lisa Hannigan, but stranger this have happened…)
Words: Angeline Liles