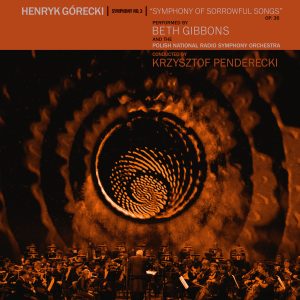 Portishead has been on an extended sabbatical since the release of Third in 2008. Other than the release of their cover of ABBA's 'SOS' in 2016, the band has been quiet. Left to her own devices, Beth Gibbons responded to a suggestion from a Polish promoter, Filip Berkowicz, that she try her hand at Henryk Gorecki's Third Symphony, the Symphony of Sorrowful Songs. Which meant that she had to find her own way to deal with the material.
The project had its share of bumps along the way. Beth doesn't speak Polish or read music. As a contralto, she's dealing with a Gorecki score written for a soprano, one register higher. Armed with a specially prepared vocal score in hand containing the original work, a phonetic interpretation, and a translation, she got to work. Just to make things more interesting this work was to be done live, so there was only one shot to get it right.
Gibbons deals in emotional honesty, as does this work of Gorecki. Sorrow has it's own language, that becomes clear as she sings, "Kajze mi sie podziol mòj synocek mi?y?" ('Where has he gone, my dearest son?'). At times this score is surprisingly minimal, yet sorrow has never needed a full orchestra to be felt.
Under the direction of Krzysztof Penderecki, considered to be one of the three greatest Polish conductors of the Twentieth Century, The Polish National Radio Symphony orchestra performed flawlessly. The apparent simplicity of the piece belies the fact that this is not an easy piece for performers to master. Dynamic changes occur while the piece appears to be motionless.
As the piece concludes the audience appears to be stunned by the performance. There is a moment where they seem to be catching their breath after dealing with language and sentiments hiding the pain and loss at the heart of Gorecki's piece. Then he applause begins, building into a standing ovation.
Recorded live on November 29, 2014, Beth Gibbons again proves there are virtually no limits to what she can do, from scoring arthouse film soundtracks (Diane Bertrand's L'Annulaire and Baby Blues), to performing Gorecki with a full orchestra. Gibbons has no rule book. Which is what makes each move so intriguing.