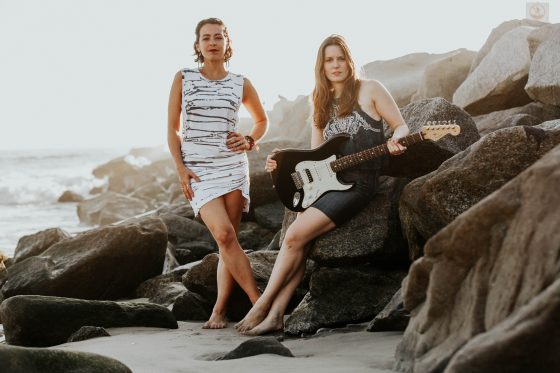 Roses
 & Cigarettes released their debut album in May of 2015 with a promotional tour slated for the Fall of that year. Unfortunately, those plans were interrupted when singer Pagliaro was diagnosed with Stage II breast cancer, and immediately began a tumultuous round of treatment. A year later, and with another tour in the works, Pagliaro was again handed bad news–the cancer was back, and this time it was Stage 
IV
. Despite this life-threatening setback and another round of new and grueling treatments, the band hit the road and completed a successful tour. Back again and as inspired as ever to continue creating, the band is set to release their latest LP 
Echoes and Silence
 on 22 February.
Please tell us a bit about yourself. Where are you from and how did you get started in music? Any defining moments along the path to present day?
I was born and raised in Los Angeles (I've been told I'm some sort of unicorn haha!) Music and the arts are on my mom's side of the family. My great-grandfather Oreste Bertoia was a multi-instrumentalist and his brother, Harry, was an artist, sculptor, and furniture designer during the Mid Century Modern movement of the 1950's. My mom plays a little bit of guitar, and as a young child I remember being completely smitten by her ability to play music. I knew at a very young age that I could play music. It was as sure as breathing for me. A defining moment for me was when Jenny and I played at The Paramount Theatre in Austin in December 2017. That was such a magical evening for both of us. To be able to play our songs in an iconic theatre to such a wonderful music loving audience in one of the best music cities in the world was deeply profound for us. I'll always cherish memories from that night.
As an artist, how do you define success?
Success is being able to do what you love every day and sharing that gift with others. The rest is gravy!
What do you find to be your greatest struggle when it comes to the music business?
I think I speak for both Jenny and I when I say the greatest struggle are dealing with the ebbs and flows of the music business and trying to stay motivated and optimistic during the hard times. There are some days where we both get frustrated when it seems like we are working in circles and nothing is happening. That's why we are thankful there are two of us; when one of us gets frustrated, the other one is always there to lift the other, and bring a positive and optimistic outlook on what we are doing and the journey we have been on together.
What do you think is the most realistic goal you can achieve as an artist/band? What do you hope to achieve?
FIND YOUR VOICE. Listen to artists who inspire you, who light a creative fire in you, and use that as fuel to find your voice. Jenny and I try to achieve that goal everyday: finding our voice, not only as the unit of R&C, but as our own people, and inspire others to do the same through their art, whatever it may be.
Outside of music, what do you like to do that you feel contributes to the creativity that you tap into for your music?
I love to travel! When we're on tour, Jenny and I always find so much inspiration simply from putting ourselves in a new environment. Meeting new people, hearing new music, experiences new things in different cities always leads to a good song. ;)
Words by: Jonathan Frahm (@jfrahm_)
Photo courtesy of Baby Robot Media