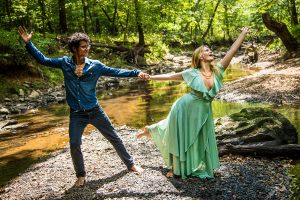 Based out of Durham, North Carolina, Violet Bell is an adventuresome and engaging folk duo comprised of Lizzy Ross and Omar Ruis-Lopez. The two renegade singer-songwriters have been cranking out successful tour stop after tour stop across the U.S. as of late, and their wonderfully vibrant EP, Dream the Wheel, gives us a good indication of just why they've been bubbling to the top.
Their latest single, '22 Acres Waltz', is decidedly meditative. It features roughly thirty seconds of pure natural noises straight from the wood before Ruis-Lopez begins striding a pretty melody across his guitar. The accompanying music video sees him and Ross enjoying a barefoot waltz betwixt serene shots of nature surrounding them. It's a calming experience altogether bearing witness to their performance, and one that we at For Folk's Sake are grateful to shine a light on.
Here's what Violet Bell themselves have to say on the track:
'22 Acres Waltz' is an interlude. Listen and you can hear that it's based on a theme from 'Write My Lines', another song on our Dream the Wheel album. Multi-instrumentalist Omar Ruiz-Lopez improvised '22 Acres Waltz' on the spot. It was recorded in one take as Omar made it up! He wanted to evoke playing outside at night next to a campfire, a feeling of daydreaming, and explore the haunting theme from 'Write My Lines'.

We recorded the crickets on a spring night in our backyard. We love the sense of place they evoke. We wanted our listeners to experience the place this music comes from, and the environmental energy that went into making it.

Close your eyes and listen, it feels like you're on a back porch somewhere in the south as the woods warm up to spring.

We made this video with Gabe Nelson. We simply went on a walk at the park down the road from our house, where the Little River runs. We often come to the Little River for inspiration and grounding. We wanted to share the Little River's sense of ease and peace with our listeners. The land and the river feel like family, and it's only right they should be shared along with the music they sourced.