On the second Saturday of every August, Fairport Convention close their 3 day festival of music and ale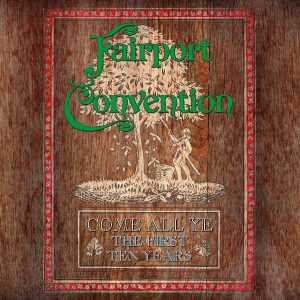 with "Meet on the Ledge". This August will hold special resonance for the band as they celebrate 50 years together. They've come a long way from that attic space in Ashley Hutchings' parent's house in Muswell Hill. To mark the occasion, comes this lavish, 7 CD box set featuring 121 tracks, 55 previously unreleased including songs from classic albums, single B-sides and BBC Radio Sessions and many, many more.
Compiled by Andrew Batt, the curator behind the very successful 2012 show "The Lady – A Tribute to Sandy Denny", this collection, as the title suggests, celebrates their first 10 years as a band. It features tracks from albums released on Polydor, Island Records and Vertigo and has line notes written by the highly respected Patrick Humphries who has written books on Fairport alumni Richard Thompson and friend of the band Nick Drake.
It includes 5 tracks featured on the BBC documentary "The Man They Couldn't Hang" which became the basis and inspiration for Dave Swarbrick writing the song opus that was "Babbacombe Lee". The earlier tracks are rockier than you might think of, pre-Leige and Lief, with versions of Sweet Little Rock'n'Roller, That'll Be the Day, One Sure Thing and Jack O'Diamonds. There is a fantastic version of Leonard Cohen's Suzanne, recorded for John Peel's Top Gear show in 1968 and gems to be found both in Eastern Rain and Throwaway Street Puzzle.
The set is rounded off by piercing live recordings from LA's Troubadour in 1974 (which includes a simply breathtaking version of Denny's solo track Solo) and a version of Knockin' on Heaven's Door which puts Guns'n'Roses to shame. Fairport have always been harder to box stylistically than given credit for with a musical range covering blues, rock, country and folk, many times mixing the genres without ever losing their focus or drive.
Come All Ye is a fantastic place to start for a beginner who wants to be introduced to the band but works even better for us oldies who have followed their journey for years. Any band that has introduced the world to the talents of Richard Thompson, Judy Dyble, Dave Swarbrick, Ashley Hutchings, Simon Nicol and Dave Pegg can't be too bad. This is one of most exciting collections I've heard in years.
Words: Mark Buckley