Day 1 – Friday July 14th 2017
As incense filled the Friday air, Madame Gandhi came on stage dressed in an orange jump suit, while the five female members of her crew had matching yellow ones. Having played with M.I.A., Madame Gandhi, knows how to get a crowd up and moving. Her skills as a drummer are unquestioned. She also has a message of social consciousness, challenging the status quo. Heavy on the bass and beats, hers was an interesting if a somewhat incongruous opening to the weekend. Beyond the slogans the message was obvious in lines like, "The future is female" and "the biggest threat is a girl with a book."
Thick blue eyeliner was the order of the day for Priests singer, Katie Alice Greer.  And thick was rhythmic assault, led by guitarist G. L. Jaguar. Stalking the stage suggestively, Greer led the D.C. band's post-punk assault began with a loud, raucous Appropriate. Yet there is nothing remotely appropriate about this four-piece. Their stormy, squally and incendiary lyrics offer a punch in the face to polite society – something that may be needed here in the Americas.
Dawn Richard owns the Blue Stage at Pitchfork. Her high-energy set from a band comprised of just a synth and guitar player, along with an electronic-drummer and two back-up singers/dancers offers a taste of urban contemporary music at its best. Breaking boundaries rather than be chained by them, her thigh length braids fill the air as she blends rock and calypso with EDM. She closes her set with the indictment, LA, demanding that the question be heard, "We just want to know if we really matter."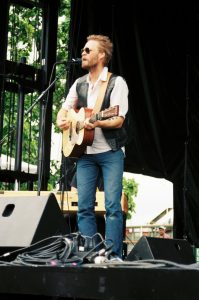 It takes a brave man to start a midday Friday set with 'Saturday's Song', but Hiss Golden Messenger's M.C. Taylor is unafraid.  Looking a bit like Father John Misty's Josh Tillman, Taylor and his four-piece band provided a set with five new songs to go along six better-known commodities. It may have taken Taylor twenty years to quit his day job, but his songs hold a rich potential.  The final line of Mahogany Dread, "Happy days are still ahead" provides the kind of hope missing in these times. One of the newest, When The Wall Comes Down was dedicated to the current leader of the U.S., and the sarcasm was evident in Taylor's voice.
William Tyler is a guitar player's guitar player, kind of a modern day Mark Knopfler, except that he lives in Nashville. Over the course of the past couple of years, he's developed a thirst for discovering the country that's being lost. It comes out in his instrumental music, songs like Missionary Ridge and Albion Moonlight are played with a passion and a sense of nuance and detail to go along with a level of taste and grace. Closing with Highway Anxiety, he and the band break the song down beautifully, before pulling it back into focus. Simply superb.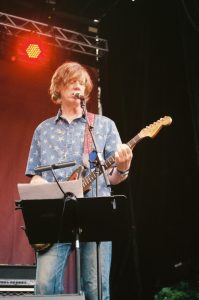 With his old mate from Sonic Youth, Steve Shelly on drums, along with My Bloody Valentine bassist Debbie Googe, and British guitarist, James Sedwards, Thurston Moore has the perfect compliment for his guitar adventures. The roar of the band had a tendency to swallow up some of the lyrics. Decked out in a blue star shirt resembling the field of the American flag and requisite blue jeans with a hold worn out hole in the left knee. He mentions they are wearing orange wristband in support of gun control. He plays like a whirling dervish, yet for the most part moves very little, letting songs like Smoke of Dreams and Aphrodite do the talking.
Dirty Projectors straddle a fine line. Sometimes the vibe is that of an art school project, while at other times they seem set on creating pop symphonies. Both extremes appear during the performance of David Longstreth's band. At times they are a band that can be tough to like. On this particular night, Swing Lo Magellan is particularly effective, especially with the addition of four horns in the mix. Though their performance appears to be carefully crafted, at the end of the day one is left considering what it is that is missing, perhaps too much head and not enough heart.
Bringing down the curtain on the first night, LCD Soundsystem proves to be more than up for the task at hand. Beginning with Yr City's A Sucker, the crowd is in their thrall. Following up with Daft Punk Is Playing At My House, and augmented by a trumpet, trombone and two saxophones it's like a northern soul version of the Stax sound. It's like their five years away never happened. They are still a force to be reckoned with.
Day 2 –  Saturday July 15th 2017
The sun came out on Day Two of Pitchfork, creating an opportunity for Laetitia Tamko and her two bandmates in Vagabon. They certainly made the most of it. Over the course of half an hour, Vagabon created a thrashy squall matching the pain and yearning of her lyrics. During The Embers this becomes apparent as Tamko delivers, "I'm just a small fish and you're a shark that eats everything." Vagabon have the potential to become far more than just an opening act.
Jeff Rosenstock has been around the music business long enough to appreciate an opportunity. He also knows how to handle a crowd. Between the waves and jazz hands he grabs the audience by the throat and refuses to let go. Fast, funny and punky, Rosenstock also shares the love, "I'd like to say thanks to the person at Pitchfork who got fired for letting us play here!" It's incredibly tough not to love a guy like that. He hops around the stage like the Energizer Bunny on speed. Running through a grab bag of styles, the cheesy keyboards, reggae licks and full-force punk, Rosenstock is a man to watch.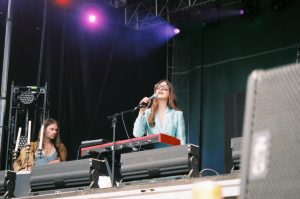 Having a single candelabrum on stage for a set beginning around 2:45 p.m. tends to make one wonder. Natalie Mering and her band, Weyes Blood present a bit of a dilemma. Their music is clearly not suited for this particular time of day, or for that matter this venue. Hers is sound suited for late nights and intense listening rooms. Starting with Seven Words, it's clear the ornate sound of this band will be lost in the recesses of Union Park. Closing with a cover of Can's Vitamin C does little to endear the band to a crowd clearly unfamiliar with the source material.
On the other hand Cherry Glazerr owns the stage from the moment Clementine Creevy slithers onto the stage in a white dress and pink socks. Loud, raucous, trash-punk has the crowd eating from their hands. I Told You I'd Be With The Guys delivers the kind of arena-rock riff that simply cannot be ignored. At one moment Creevy's voice can fill the void with a horror movie scream, while other moments can verge on gentle. She plays to the video cameras and the crowd with equal abandon.
Bagpipe entrance music immediately informs the audience brooding Scottish band Arab Strap are not like the other fare on display today. Dealing with the kind of relationship issues that often get ignored, Aidan Moffat's brogue and Malcolm Middleton's guitar are still the focal points. Moffat paces the stage with an ever-present Goose Island Pils in hand. The set begins with Stink and ends with The First Big Weekend. Along the way we get to peek inside the mind of The Shy Retirer and Speed Date. While most in the audience have little experience with the band, theirs is a sound that goes down as smoothly as the Goose Island.
The power of George Clinton's Parliament/Funkadelic proves impossible to ignore. With a set of songs mostly from the Funkadelic songbook, Clinton and his band of singers, guitar players, rappers and keyboardists, laydown the kind of groove that gets the booties moving despite the packed confines of the grassy Union Park field. Leading off with Alice In My Fantasies and moving on to Poll Power this is a bit like a hyped up James Brown show. At 75, Clinton is still a force to be reckoned with, his freak flagflies high with a crowd ready to dance. There are no pyrotechnics to be generated thanks to the 4:15 time slot, yet the funk is overflowing.
Angel Olsen takes the stage with her band at 6:15. With the band dressed in matching grey suits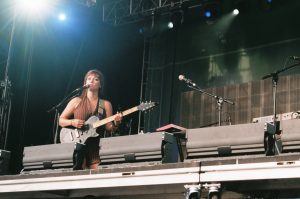 and bolo ties, Olsen's brown-pinstripe, sleeveless hot pants outfit is perfect for the weather. High and Wild serves as an apt starting point for the band for the band to rock out. She complains "it's hard to be real with everybody in your life," before swinging into Shut Up Kiss Me. The set seems to lose a bit of steam after that. It's tough to deal with a crowd pumped up over the possibilities of A Tribe Called Quest, still her voice rings through on Not Gonna Kill You. An admirable performance, although, perhaps not suited for this particular venue
.What can you say about a performance from a band that after a 10-year absence has a major hit record, and one rapper who dies during the recording process? For A Tribe Called Quest this is their farewell to Phife Dawg. Yet the show is not funereal. Instead Q-Tip, Jarobi and Consequence are in top form. The rush of The Space Program has the crowd blasting off. Adrenaline ripples through the audience during Dis Generation. Phife Dawg is paid tribute with an acapella first verse to Butter. While this tour may be about saying goodbye to one member, the band still has plenty to say,
Day 3-  Sunday 16th July 2017
Being able to witness the swirling squall of Colin Stetson borders on the astonishing. Using a variety of saxophones from a contrabass sax measuring at least five and a half feet to those of a more normal nature, Stetson creates an otherworldly array of sound through circular breathing techniques. Over the course of six songs considerable magic is at work. Set opener, The Righteous Wrath Of An Honorable Man, sets the scene perfectly as the audience is entranced by the conjuring of an orchestra of saxophones produced by just one. It's a truly amazing performance, one that is surprisingly well received by the audience.
NE-HI provides an interesting counterpoint. They are at their heart a much more simple concept, straight-ahead rock and roll. Musically, this Chicago four-piece indie rock band plays songs that seem to have been worn in for years. Their tunes play well with the assembled multitude, yet they have tough competition from Derrick Carter. They play on gamely, but the multitudes are moving toward the sounds of the street.
House music was never supposed to be played live at 2:45 in the afternoon, but Derrick Carter gamely gives it a go. He generates a large and willing crowd, but it's not the kind of music that was designed to be played in sunlight. Nor is there much of a visual content to the performance. The crowd sways, fists pump, but it's a half-hearted gesture this early in the day. A Chicago house legend deserves better.
From the get go, Isaiah Rashad's set was high on energy. Commanding the stage, strutting from one end to the other, Rashad opened the performance with Free Lunch. At one point he loses both the pacing and flow of his words, stopping the set dead in its tracks to regain his place. It's a brave performance. Towards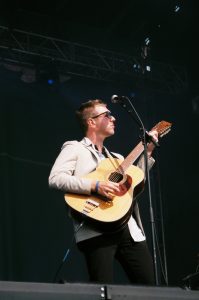 the end of the set he jumps off the stage and offering high fives to his fans.
Hamilton Leithhauser strolls on stage wearing shades to keep the setting sun from his eyes. For this occasion, all but one of the songs are collaborations with Vampire Weekend's Rostam Batmanglij from the LP I Had A Dream That You Were Mine. Hopefully romantic, these songs go down quite well with the audience. His four-piece backing-band play the songs with a sense of style and ease that makes the material shimmer.
Shoegaze seems a strange choice for 5:15 in the late afternoon, yet Ride seems to have no problem with the swelling crowd. Opening with the first two songs of Charm Assault before voyaging into the back catalogue, their brand of music has definitely not gone out of style over the course of their twenty-seven year career. While their performance has little to show for it visually, the experience of hearing them live and engaged makes all the difference in the world.
Montclair, New Jersey may seem like an unlikely place to find Pinegrove's twangy blend of guitars and banjos. Yet their earnestness has been greatly lacking from so much of the music coming out today. This is music with a sense of modesty that makes it all the more appealing. "What's the worst that can happen," is more than just a song lyric to New Friends, it's a state of being that informs guitarist Evan Stephens Hall and his mates. Raggedly right and all the better for it, Pinegrove continues to play the kind of music allows room a blue yodel. This is a band deserving more acclaim.
A severe family illness causes the cancellation of expected set from the Avalanches. In their place Jamilla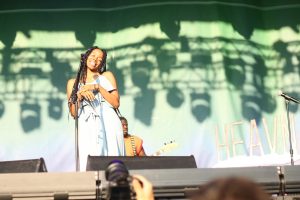 Woods moves to the headlining red stage. While this is an unexpected development, it's one that she is determined to make the most of. Leading off with the title track of her solo debut, HEAVN, she grows into the role of main stage performer with confidence building on every track. Sympathetic backing never overwhelms the material, striking a perfect balance between overplaying or underwhelming the Chicago singer/poet. She is another name to watch.
Nicolas Jaar has the stage to himself with only his keyboard and MacBook as companions. While the Sirens LP is a fairly overt political statement and his opening track Three Sides of Nazareth deals with the CIA-backed overthrow of Salvador Allende by Augusto Pinochet, what comes through to the crowd most is that it's time to dance. Followed by Flight, Jaar creates and array of moods and sounds that enthrall a crowd that on this particular occasion has no desire to hear about the death and disappearance of over 120,000. That he is able to keep them enthralled is a testament to his talent.
Closing Sunday night, Solange provides a performance matching anything seen over the course of these three days. Equal parts choreography and spontaneity, her set boggles the mind with its creativity. At one point she fills the stage with dancers playing mock strings and brass, while at other times the set consists of just her, back-up singers and a core band. The crowd begins to exit early, unaware of the talent and artistry on display. Rise, Weary and Cranes In The Sky form a triptych of songs from A Seat At The Table that truly come alive on stage. This was a performance not to be missed by a performer at the height of her powers.
Words: Bob Fish
Photos: DJ Fish