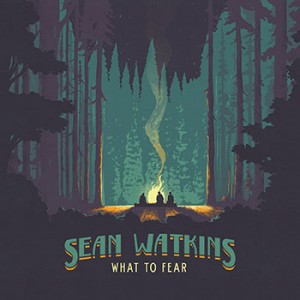 Sean Watkins has gradually become more and more of a household name amongst Americana-loving families throughout the years, and for good reason. The fledgling virtuoso who first came onto the roots scene in the first iteration of Nickel Creek way back in 1989, Watkins has ascended into a respectable position amongst the throngs of bluegrass greats, not only performing with Nickel Creek, but also in several other musical projects, such as Watkins Family Hour, who released a widely-acclaimed album just last year. His solo career has spanned well over a decade in itself, beginning with Let It Fall way back in 2001 and leading up through All I Do Is Lie a couple of years back. Now, Watkins is looking to stretch his muscles as a solo singer-songwriter once again through inhabiting the mixed moods and feelings of What To Fear.
What To Fear opens on a tentative, cautiously optimistic, and altogether nostalgic title track that sets the mood right, especially for long-time listeners of Nickel Creek; it wouldn't be unfair to say that he wears the band's influence on his sleeve, but the vague sentimentality pervading the track infers it to be more of a personal venture than the standard full-band fair that we have come to appreciate. Topped off with a top-notch blazing acoustic solo that snaps back surprisingly well into the slower tempo of the chorus, 'What To Fear' encapsulates the strengths of the album in a single song and allows a nice peer into the rest of the moody, multi-layered vibe that Watkins has managed to achieve for this record.
Other standouts include the earthy, down-home instrumental collaboration between he and sister Sara Watkins on 'Local Honey', and what will probably widely be regarded as the album's objectively best song, the track 'Too Little Too Late' which precedes it. One might infer that Watkins has never seemed more heartfelt on a performance, and one might be right. From top to bottom, the intrinsic emotion that Watkins sets on display in this ambivalent dissolution of a track hot and ready for the radio.
It goes without question that What To Fear is another fantastic addition to Watkins' overall portfolio. As always, we're eagerly awaiting what's up next.
Words: Jonathan Frahm