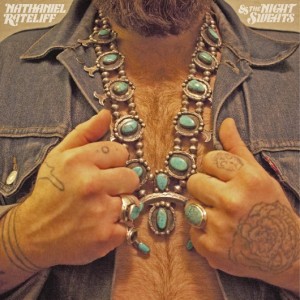 Nathaniel Rateliff has long been an alt-folk hero, not known to many, but obsessed over by those who do. He is one of those rare acts who inspires a cult-like following whilst simultaneously not being a weirdo or having a cringe-inducing collective name for his audience, but he just kicks ass. And ass-kicking seems like an apt summary of Rateliff, his voice absolutely roars. It is a powerhouse. It is an avalanche of whiskey. It is a beast, endlessly leaping from him. You don't even need to go to a live show to hear that, even on record, he erupts. That being said… absolutely go and see him live, because he puts on a hell of a show.
Since 2013's tremendous Falling Faster Than You Can Run the aforementioned following have been waiting patiently for the arrival of his latest project, Nathaniel Rateliff & The Night Sweats, a more soul-orientated version of the Rateliff we have come to know. For a long time, all we heard of this was a double side released the same year as Falling Faster… containing early versions of two of the album tracks. The occasional teaser would be released, an odd live video here and there maybe, but the the first time The Night Sweats really grabbed the world by the balls and demanded it listened was their exceptionally good appearance on The Tonight Show Starring Jimmy Fallon, leaving the show's host beside himself as they earned a standing ovation.
Now the album is here in full, and it is more than worth the wait. The songs themselves are everything that Rateliff does best, just presented in a different form – the brass section bringing a new element to the hollering heartfelt hullabaloo he so effortlessly creates. The phrase repetition is still there, a common thread through many of his songs, growing and growing to a glorious conclusion.
Standout opener 'I Need Never Get Old' sets the tone with riffs aplenty, and the signature voice is on full pelt. "I needed to try, I need to fall, I needed your love I'm burning away, I need never get old," – it flies from the speaker right into the depths of your skull. 'Howling At Nothing' moves over unpretentious chord choices, doing just what it should do, never trying to be too clever for its own good.
'I'd Be Waiting' offers a softer contrast as Rateliff turns crooner, while 'Shake' is a latin-infused piece of naughtiness. But the one clear standout is 'S.O.B.'. The hum-and-clap intro gets you moving before an instrument or lyric has been introduced, and then out of nowehere, the chorus explodes, with the cry of "Son of a bitch! Get me a drink!" – an unbelievably satisfying to sing or say. You immediately feel like you're in Brooklyn in the late 50's, it's just a cool song.
This is a great record. The main joy of it lies in the fact that while it's a fresh sound for Rateliff, at it's core it remains fundamentally a Rateliff record. The songs, the structures, the voice, it's all there, but freshly presented. The alt-folk kings' empire expands.
Words: Ollie Lucas