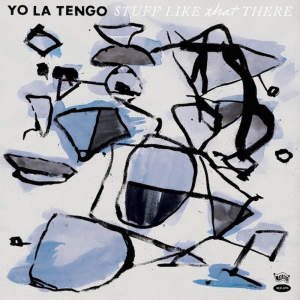 One of my favourite Yo La Tengo tracks is 'Gentle Hour', a hushed, drony love song from 2009's Dark Was The Night compilation. I realised this week that it's not theirs, but was originally recorded by New Zealand's Snapper. That's the beauty of Yo La Tengo, whose best bits are scattered all over the place – not just on regular studio releases. When the Hoboken indie veterans do take on other people's material, they're usually not painting by numbers.
Stuff Like That There is a 25th anniversary shout-out to 1990's Fakebook which also gathered covers, Yo La Tengo re-interpretations and originals. Husband-and-wife mainstays Ira Kaplan (guitar/vocals) and Georgia Hubley (drums/vocals) and bassist James McNew are joined by returning guitarist Dave Schramm on what is one of the band's most accessible and coherent records to date.
Largely acoustic, with upright bass, brushed drums and warm electric guitar, those hoping for any trademark 10-minute Yo La Tengo wig-outs will be disappointed. And occasionally it does feels a bit safe. A cover of The Cure's 'Friday, I'm In Love' is pleasant enough in a Starbucks-y type way while 'All Your Secrets' is not much different from its Popular Songs original.
Far better is a version of Great Plains' 'Before We Stopped To Think', which sees Kaplan's hesitating, near-whispered vocals bring new depth to lines like "we stopped fearing our death/that's when we died". Hubley also wrings haunting emotion from the Hank Williams' classic 'I'm So Lonesome I Could Cry'.
Meanwhile, putting older, edgier Yo La Tengo tracks 'The Ballad Of Red Buckets' and, in particular, 'Deeper Into Movies' on a tight leash gives them fresh heart and reminds you what accomplished songwriters Hubley and Kaplan are. This is compounded by new originals 'Rickety' and 'Awhileaway' which slide perfectly into the understated, mellow atmosphere. A cover of Sun Ra's 'Somebody's In Love', is a fun, fitting finale to a carefully curated album which, ironically for a band who've never ticked boxes, makes for perfect background music. Here's to the next instalment in 2040.
Words: Pete Bate
@petebate