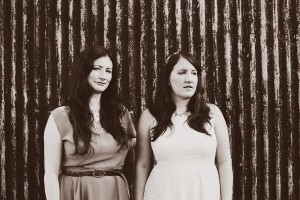 Fronted by sisters Rachel and Becky, The Unthanks are an English folk group who are known for their unique blending of traditional folk tunes with other, eclectic sounds and influences. The band's 8th studio album, Mount The Air, was released in February this year, to critical acclaim and five star ratings. It has so far been described as 'experimental' and 'discreetly radical' by critics, and is certainly a release for the band to be proud of.
The Unthanks have just announced that a third single from Mount The Air is to be released, entitled Died for Love. The track is a traditional English folk song that The Unthanks have rearranged in their own style. Died for Love will follow the singles Mount the Air and Flutter, which were released in December 2014 and February 2015 respectively.
The Unthanks have also announced that they will be headlining the Pyramid Stage at Glastonbury this year, with a 26-strong orchestral ensemble behind their usual five piece line-up. As well as Glastonbury, The Unthanks have a busy year ahead of them, including headline sets at six other UK festivals, and a tour to promote their latest album. 
Tour dates and festival appearances are as follows:
27th May –  Hay Festival, Hay on Wye
27th June – Glastonbury Festival
10th July – Earagail Arts Festival, Ireland
11th July – Folk at the Hall Trelawnyd, North Wales
19th July – Folk by the Oak Hatfield, Herts. 
24th July – Folkfest Killarney Kerry, Ireland
26th July – Deer Shed Festival Topcliffe, Yorkshire
1st August – Cambridge Folk Festival 
2nd August – Port Eliot Festival 
14th August – Stockholm Culture Festival 
22nd August – Home Gathering, Newcastle
23rd August – FolkEast Glemham, Suffolk
29th August – Solfest, Silloth, Lake District
30th August – Greenbelt, Kettering
5th September – End of the Road Festival, Dorset   
6th September – Moseley Folk Festival, West Midlands
17th October – Homegrown Bury, Castle Armoury Drill Hall.  
5th December – The Great British Folk Festival, Skegness