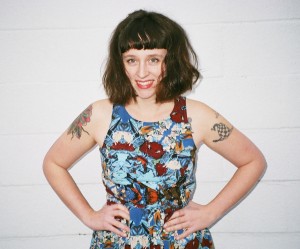 Waxahatchee, the solo musical project of Katie Crutchfield, is to return with a new album Ivy Tripp on 7th April.
The follow up to 2013's critically lauded Cerulean Salt, Ivy Tripp drifts confidently from its predecessor and displays a more informed and powerful recognition of where Crutchfield currently finds herself. The previous themes of loss of youth and coming of age
have been replaced with self-control and sheer honesty;
"I think a running theme is steadying yourself on shaky ground and reminding yourself that you have control in situations that seem overwhelming," she says of the new album, adding, "The title Ivy Tripp is really just a term I made up for directionless-ness, specifically of the 20-something, 30-something, 40-something of today, lacking regard for the complaisant life path of our parents and grandparents. I have thought of it like this: Cerulean Salt is a solid and Ivy Tripp is a gas."
Following the sold out solo shows later this month at London's St Pancras Church, Waxahatchee has also announced a set of European dates with a full band for June. The line-up will include Katie Crutchfield (guitar, vocals), Keith Spencer (guitar), Katherine Simonetti (bass), Ashley Arnwine (drums), and Allison Crutchfield (guitar, keys and backup vocals).
Pre-order 'Ivy Tripp' now on limited-edition colored vinyl via the Wichita shop here and receive an autographed poster, while supplies last.
Waxahatchee Solo European Dates:
Monday 26 January: London St Pancras Church SOLD OUT
Wednesday 28 January: Paris L'Espace B TICKETS
Saturday 31 January: Brussels Botanique TICKETS
Sunday 1 February: Amsterdam Paradiso TICKETS
Wednesday 4 February: Berlin Monarch TICKETS
Waxahatchee Full Band European Dates:
Sat 23 May: Dresden, Beatpol
Mon 1 June: Münster, Gleis 22
Wed 3 June: Hamburg, Molotow
Thu 4 June: Copenhagen, Beta
Mon 8 June: Köln, Blue Shell
Wed 10 June: London, Electric Ballroom
Thu 11 June: Bristol, The Fleece
Fri 12 June: Manchester, The Ruby Lounge
Sat 13 June: Dublin, Button Factory
Sun 14 June: Belfast, McHughs
Mon 15 June: Glasgow, Stereo
Tue 16 June: Newcastle, The Cluny
Wed 17 June: Leeds, The Brudenell Social Club
Thu 18 June: Sheffield, The Harley
Fri 19 June: Southhampton, Joiners
Sat 20 June: Brighton, Bleach