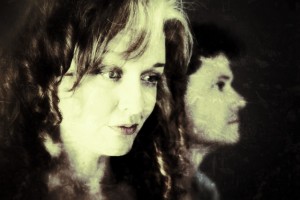 For Folk's Sake are proud to premiere the brand new video from Kathryn Roberts and Sean Lakeman today as the duo make a spectacular return with 'Child Owlet,' a a traditional ballad from the revered Child Ballad collection.
The track is taken from their upcoming album Tomorrow Will Follow Today, their boldest musical statement to date. After being voted "Best Duo" in the BBC Radio 2 Folk Awards in 2013, and also nominated for "Best Original Song" (The Ballad of Andy Jacobs), in Tomorrow Will Follow Today they add two rarely covered traditional songs to eight confidently written compositions to create a superb new album.
This husband and wife duo had been absent from the music scene for almost a decade before their highly-acclaimed "Hidden People" CD (2012) was released. Sean was busy touring the world with brother Seth's band whilst Kathryn remained in Devon bringing up the couple's twin daughters.
The Roberts-Lakeman name has become synonymous with "quality" during their musical careers which started when they were signed to a major label as teenagers. Now after nearly two decades in music, Kathryn's sublime vocals merge seemlesly with Sean's deft and inventive live guitar work on stage – and his award-winning sonic skills in the studio. In addition to his chart-topping hit records for brother Seth Lakeman, Sean has this year alone produced albums or tracks with The Levellers, Billy Bragg, Frank Turner, Imelda May and Bellowhead…as well as a string of other folk/acoustic acts.
So here it is: the brand new single, 'Child Owlet' for your listening pleasure.
Kathryn Roberts and Sean Lakeman will also be on tour in the next few months and you can find the full lost of dates below. Support will come from another FFS favourite, Hattie Briggs:
Kathryn Roberts and Sean Lakeman: UK Tour 2015
March
27th: Bristol, Folk House
28th: Stroud, The Convent
29th: Chipping Norton, Theatre
April
1st: Runcorn, The Brindley
2nd: Bury, The Met
3rd: Matlock Bath, The Fishpond
4th: Durham, Gala Theatre
5th: Skipton, The Mart Theatre
6th: Seahouses, St. Cuthbert's House
9th: Pocklington, Arts Centre
10th: Barnsley, The Civic
14th: Farnham, Maltings
15th: Wimborne, Tivoli Theatre
16th: Brighton, Komedia
17th: London, King's Place
18th: Maidstone, Hazlitt Arts Centre
19th: Salisbury, City Hall
20th: Bromsgrove, Artrix
21st: Milton Keynes, The Stables
22nd: Hereford, The Courtyard Arts Centre
24th: Didcot, Cornerstone Arts Centre
25th: Stourport, Stourport Civic Hall
26th: Cambridge, Junction 2
29th: Tewskebury, The Roses
30th Exeter, The Phoenix
May
1st: Great Torrington, The Plough Arts Centre
2nd: Dorchester, Arts Centre
For tickets, visit the official Kathryn Roberts and Sean Lakeman website here.