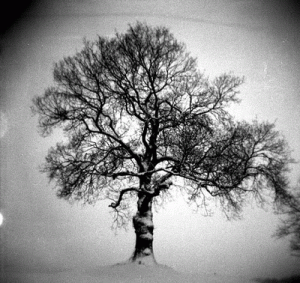 Following the myriad successes of film-album combo First Days of Spring, which won Noah and the Whale much critical acclaim and shattered aortas left, right and centre, details of Fink and Co.'s next LP have been released.
Tantalising they are too. Another word might be 'sketchy', another 'uncertain'. What we do know, according to the band's website, is that the album sleeve will probably bear this rather beautiful, blasted-heath style photo of a wintery tree by James Robinson, and that the record might be called Old Joy.
All pretty hazy, admittedly, but there is plenty of cause for excitement. According to the NATW blog, 4 songs are written and there are plans for the gents to hole up in a converted synagogue to record demos in the next few months. They couldn't just hop off to a run-of-the-mill studio, obviously. These boys need to do their work in extraordinary surroundings, so that we get to enjoy their extraordinary results.
Words: Helen True