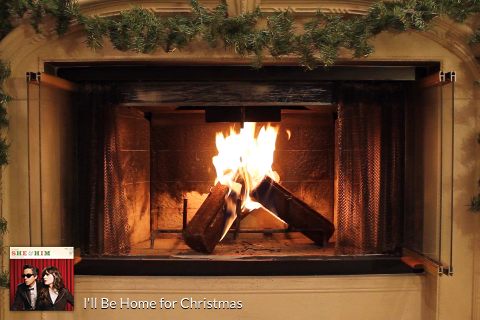 There's nothing quite like the roar and crackle of an open iPhone at Christmas, a fact of which M. Ward and Zooey Deschanel are very well aware.
The pair continue to punch out the albums with flare and pizzazz, a repertoire to which they've added a little digital imagination this year.
Their Yule Log app comes preloaded with a cover of 'I'll be Home for Christmas', and makes thoroughly authentic burning wood sounds while it plays. If you buy A Very She & Him Christmas (or you've bought it already), it'll also play the album for you, accompanied by the sizzle and pop of a roaring fireplace.
'But isn't this a gimmick to sell a two year-old Christmas album?', you ask. Yes, totally, but Christmas is all about gimmicks, recycling, and bang-on tunes, so none of us has any right to complain. Especially when we bear in mind this corker of a video to 'Baby It's Cold Outside'.