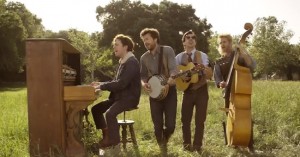 You know you're seriously big time when you get famous actors to be in your videos.
So following on from the likes Christopher Walken featuring in Fatboy Slim's 'Weapon of Choice', Alicia Silverstone and Liv Tyler starring in 'Crazy' by Aerosmith and that bloke from Hollyoaks being in Mansun's 'Wide Open Space', Mumford & Sons have roped in a quartet of comedians to play the band in their new promo for 'Hopeless Wanderer'.
Arrested Development star Jason Bateman leads the way, playing Winston, while Hangover actor Ed Helms and Saturday Night Live performers Jason Sudeikis and Will Forte complete the line-up.
Bateman said: "Getting a chance to pretend I'm a rock star was the proudest I've been of myself while awake."