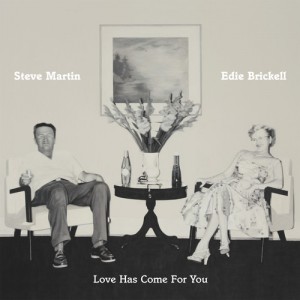 'Say what you like about that Sgt Bilko fella, but he sure plays a mean banjo!'
So goes the conversation among agents and studio bosses in all the most exclusive Hollywood bars every time Steve Martin strolls by, usually without even a nod of acknowledgement. He doesn't need those bloodsuckers any more. During the last ten or fifteen years, Martin has tended to forego the asinine rom-coms in favour of more invigorating entertainments, like art-collecting and writing bestselling novels.
He's always been America's favourite polymath, and his favourite sideline, even back in his days as a struggling stand-up, has been the banjo. Unlike Tim Robbins or Juliette Lewis, when Martin brings out an album you can believe it's not entirely the result of a whim and the indulgences that movie-stardom brings. Love Has Come for You is his third record, and his talent is unquestionable. He has a slack handful of Grammy awards, and is clearly keen to use his status to bring bluegrass along with some of its best but under-acknowledged proponents into the spotlight; his collaborators this time round include the Steep Canyon Rangers and Nickel Creek's Sara & Sean Watkins.
Sharing top billing and taking vocal duties (a sweet counterpoint to Martin's intricate playing) is Edie Brickell, a veteran singer-songwriter best known as being Mrs Paul Simon. Her voice has a pleasant huskiness and a playful phrasing that suits tongue-in-cheek lyrics about emails ('When You Get to Asheville') or cowboy hats ('Siamese Cats'). She brings life to a project that can't help but veer towards the sterile.
Because ultimately Love Has Come to You is as polished and poised as one of Martin's films, and like his films it's a little bit too tasteful for its own good. There's no denying his chops, and it's certainly not just his A-list cache that attracts some of the finest musicians working in bluegrass today, but it's difficult to shake the notion that a man inclined to rewrite Cyrano De Bergerac with a happy ending will never be able to quite bring himself to move on from technical proficiency and explore the depths or the darkness that is integral to this genre at its best.
Words: James Robinson