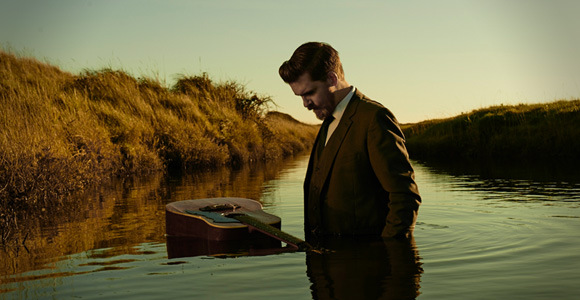 With first two albums, Matchbox Man and Map or Direction, John Smith (no more comments on the name, please god) built up a quiet but devoted following. With third full-length release, Great Lakes, the time has come for Smith to take his place amongst the heavy-weights of the new British folk scene. A seamless merge of influences from both sides of the channel, Smith's skillful finger-picking and imaginative guitar arrangements and playing make for a seriously quality album. Having supported the diverse likes of Tinariwen, Richard Hawley, Iron and Wine and Gil Scott-Heron, Smith has done his time as second fiddle and now deserves a long turn in the limelight.
Hello, please introduce yourself and your music to the uninitiated.
I'm a guitarist, singer and songwriter, in that order. I am influenced by the lineage of British folk guitar players but I'm also really into American and African styles. I write mostly about love though I've tackled death and mythical creatures.
Tell us a bit about your latest release?
Great Lakes is my new record, made over ten days in a converted chapel in North Wales. It's about love and water and I had some very serious musicians play on it.
What was your best ever gig?
I've been very fortunate to play a lot of really good shows. May I pick two favourites? The first time I played the Liverpool Philharmonic Hall was my proudest moment, because I used to pull pints behind the bar. And then Dragonfly Festival in Sweden, because the audience were just truly extraordinary. Hundreds of people singing along to your songs is something you can't really beat.
What's the worst thing about being a musician?
Occasionally it gets very tiring, and at such times I have had to forcibly maintain my love for playing. It's like any relationship. You need to hold on if you want it to work. I'm still learning how to focus.
What inspires you?
Touring and meeting people. That's my bread and butter.
If you won a billion pounds what would you do with it?
I'd invite Scarlett Johansson into outer space for a couple of weeks.
Which of your songs is your favourite and why?
At the moment it's 'England Rolls Away' from the new record. It took me a year or so to write but I think I said what I meant to.
What are you plans for the future?
Touring as much as possible with the new record. Hopefully I'll sell enough to make another.
Finally, we're always looking to expand our musical horizons. Do you have any recommendations of bands or artists we should be looking out for?
Yes! I'm hooked on the new Wave Machines record. If you have a moment, listen to Civilians by Joe Henry. I usually maintain a steady rotation of Van Morrison, Mastodon and Arvo Part, but lately I've pushed them aside to work my way through Afel Bocoum's back catalogue, and that's some heavy listening. That guy is a ridiculous guitar player.
Check John out on the following dates:
May 28th – Barbican Hall, London
May 29th – The Olympia Theatre
June 19th – The Musician (Rescheduled Date) – Leicester
November 14th – Union Chapel