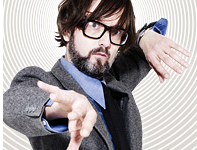 Jarvis Cocker's first project as editor-at-large at Faber and Faber is to be a history of British folk clubs.
The Pulp frontman took up the role back at the start of last year and has now signed up his first commission, Singing from the Floor by JP Bean, recommended to him by fellow Sheffield musician Richard Hawley.
Cocker told Faber Social: "When my friend Richard Hawley said he'd met 'a man in a pub who had a book for me' I have to admit I was slightly dubious. But he was right. Singing from the Floor portrays an important movement in vernacular culture in the voices of the people who made it happen – and that's not an easy task, especially when the events in question took place many years ago and may have involved the consumption of alcohol.
"JP Bean has captured this moment before it is lost forever, and has made it live again on the page. He's a very clever chap. Let's raise a glass to him."
The book charts the folk revival of the 1950s and 60s, told by many of the key figures of time including Martin Carthy, Peggy Seeger and Ralph McTell.
It is scheduled for release in April 2014.