This week saw the release of Sandy Denny – The Notes & The Music – A Collection of Demos and Rarities, a four-CD box set celebrating some of the lesser known works of one of the UK's best-loved folk singers.
To celebrate, we're giving away a mug and postcard set, and all you have to do to enter is email [email protected] and say you want in!
Please get your entries in by Friday November 9.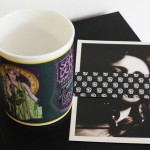 The treats have been piling up for Denny fans over the past year or so. Thea Gilmore set music to some of her unrecorded lyrics to release Don't Stop Singing last year, and was then one of several artists to join the touring tribute show The Lady: A Homage to Sandy Denny. Earlier this year, the albums Sandy, Like An Old-Fashioned Waltz and Rendezvous got deluxe reissues.
As if this latest box set was not enough already, Universal Music has now announced plans to issue a four-CD version of the impossible-to-find Complete Sandy Denny Box Set, the original 19-CD 2010 version of which which can set you back four figures online.
The new rarities release is available to purchase here.