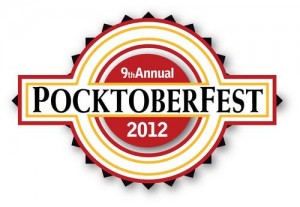 Pock'n'Roll. Pock and awe. Pock 'til you drop. Top of the Pocks.
The only thing better than attempting a bit of word play relating to Pocktoberfest was actually being there.
You may not have heard of Pocktoberfest. You probably haven't even heard of Pocklington, the modest East Yorkshire market town that plays host to it.
But I'm guessing you are familiar with Echo And the Bunnymen. And Ellen & the Escapades. And Ocean Colour Scene. Maybe David Ford or Guillemots?
All of the above were on duty at one of the most inspired smaller festivals in recent memory.
The event has existed in its original form as a beer festival for nine years, but having gradually upped the emphasis on music, 2012 saw the organisers put together the kind of line-up that would not look out of place at one of the summer's major corporate shindigs.
But instead of multinational branding at every turn, Pocktoberfest was full of heartwarmingly personal touches – from the team of volunteers keeping the show on the road, to the locally-produced food tents and the 50-plus real ales that made a mockery of the £4-a-pint watery dribble synonymous with so many music festivals. If that's not enough, proceeds were in aid of Help For Heroes.
And so to the bands themselves.
Local boys Club Smith got the party started, before the critically-acclaimed David Ford pulled off an affecting mid-afternoon set. A born emoter, Ford veered between keyboard, percussion and guitar – using a sampler to create his own backing tracks from scratch.
Leeds folkies and FFS favourites Ellen & the Escapades were next up and slotted easily into the setting. Ellen Smith's cheery vocals and the band's sunny-side-up style were immediately charming and they took the opportunity to show off a couple of promising new songs as well as their gorgeous cover of R Kelly's 'World's Greatest'.
Ocean Colour Scene's Brit-pop heyday may be firmly in the rearview mirror now but frontman Simon Fowler and band-mate Oscar Harrison followed with a hugely welcome session of acoustic nostalgia.
Fowler was enjoyably self-deprecating but with tunes like 'Get Blown Away', 'The Day We Caught the Train' and 'The Circle' at his disposal there was really no need. When a couple bravely wandered to the front during the latter to recreate their first wedding dance, it was a genuinely wonderful moment.
The rough and ready boys of Louis Barabbas and the Bedlam Six ensured the transition to slightly heavier climes and Guillemots took things on with an hour of their whimsical indie-pop.
Fyfe Dangerfield led proceedings in his enjoyably other-worldly way and the band's energetic jams, notably old favourite 'Made Up Love Song #43', were warmly appreciated.
During his earlier set Fowler had spoken of his surprise that the legendary Bunnymen were topping the bill here, likening it to "Ozzy Osbourne playing at the whist drive", but a little after 9pm Ian McCulloch and company arrived.
They obliged with a handful of classics – 'Lips Like Sugar', 'The Cutter', 'Killing Moon' – and even a wonderful 'Nothing Lasts Forever' that segued seamlessly into both 'Walk on the Wild Side' and 'Don't Let Me Down'.
It was a suitably classy end to a classy event. Pock on!

Words: Rory Dollard