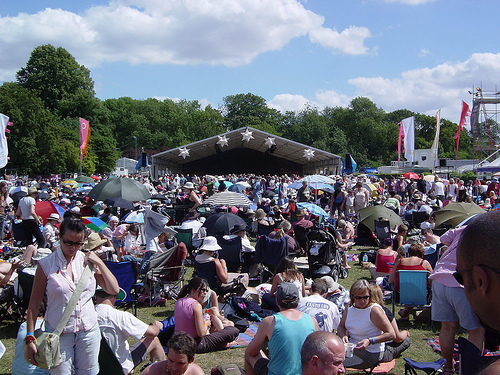 Thursday sees the equivalent of a religious holiday for the folk world kick off as the Cambridge Folk Festival opens for its 48th year. One of the longest-running in the UK, the CFF was first held in 1965 and featured an up-and-coming young artist by the name of Paul Simon (no idea what happened to him). Since then the festival has gone from strength to strength and now attracts 10,000 people each year for its eclectic mix of anything folky under the sun, and a few other things besides. In preparation for the annual folk lovers pilgrimage down to the green and pleasant fields of Cambridge, FFS has put together this handy guide to help you navigate the sheer deluge of folksy loveliness. In other words, it's a list of what we just can't wait to see….
THURSDAY
Arrive, unpack, erect tent, relax….
Benjamin Francis Leftwich
What better way to start Thursday evening than with Benjamin Francis Leftwich? And we don't just love him because the acronym of his initials sounds like a sandwich. A gentle, British Bon Iver perhaps, with the dreamy, fireside sensibilities of Paul Thomas Saunders, Leftwich is perfect first-night chill out fare.
Billy Bragg Celebrates Woody Guthrie's Birthday
Who better to celebrate the man responsible for reviving 20th century folk music than forever- enfant terrible Billy Bragg? For those living under a bench in Milton Keynes, Guthrie was probably the most significant American folk artist of the first half of the century, covering old standards such as 'This Land is Your Land', and creating new classics of his own. Born in 1912 in Oklahoma, his relatively short career was cut short in the 1950's due to the health problems which eventually killed him, but he inspired the great folk artists of the 60's like Bob Dylan, Joni Mitchell and Pete Seeger. A passionate social and political commentator, it seems only fitting that Bragg, a long time devotee of Guthrie's, pays him the respect he deserves.
Polly Paulusma
Polly Paulusma combines an American country aesthetic with old-English folk sounds, and this is one of the reasons we love her. Following critically acclaimed first album, Scissors in my Pocket, Paulusma has appeared on stage with more famous people than Mark Ronson, including Bob Dylan, Jamie Cullum, Marianne Faithfull, The Divine Comedy and Coldplay (but we'll forgive her the last one). A difficult personal time in which Paulusma suffered two miscarriages resulted in a heartfelt, complex and often agonising second album, but two children later Paulsuma is on top of the world. Let's go and celebrate with her.
FRIDAY
Festival breakfast followed by the first full day of beautiful sounds…
Liz Green
With debut album O Devotion Liz Green brought the kind of vocal to the airwaves not heard in 70-odd years. A quirky northern lass, Green's voice, like that of Laura Gibson, could easily have come from a collection of The Carter Family's. At once sweet and dark, Green sings about men who go to funerals as a hobby and makes a mean music video featuring paper figurines. She'll be performing in The Den, the stage introduced last year to showcase new and emerging talent.

Jake Bugg
Also performing on Friday in The Den is Jake Bugg, who sounds like a contemporary of Dylan and Donovan but is really a precocious 17 year old with the voice of a much older man. With songs that will have you yearning for the old days travelling along Route 66 with nothing but a pack and a pair of pants, this boy is so talented it might make you seethe if he wasn't so darn good. Bugg has been garnering so many rave reviews it won't be long before his star explodes, so catch him at a smaller venue while you still can.
Raghu Dixit
If any performer could sum up just why the Cambridge Folk Festival is so brilliantly diverse it's Bangalore-based artist Raghu Dixit, who blends Western folk with bhangra and traditional Indian arrangements whilst singing in English, Hindi and Kannada. AND he's a highly accomplished Indian Classical dancer. At times theatrical and overblown, at others tender and restrained, you won't know whether to dance your sandals off or sit on the grass stroking your beard appreciatively.
Spiro
Spiro are difficult to describe, which is why we'll let them do it for you:
"We've got as much to do with minimalist classical and dance music as we have with folk. Even though we use folk tunes, they're raw materials that the rest of the sound is built around."
That. Basically they lull you into a happy, safe folk reverie before chucking a curve ball into your aural cavities. They could be making classical music contemporary or contemporary music classical – listen for yourself and decide.
Other downright lovely things to do on your first two days at the CFF 
Thursday: Try your hand at juggling with the Phoenix Project or, if you have the reflexes and motor skills of a tortoise, go and be entertained by some street theatre with the Bread and Butter Theatre Company.
Friday: Dance your socks off Ceilidh-style at Blackbeard's Tea Party, then mosey over muso-style to catch Q's interview with Roy Harper.
For more info: http://www.cambridgefolkfestival.co.uk/