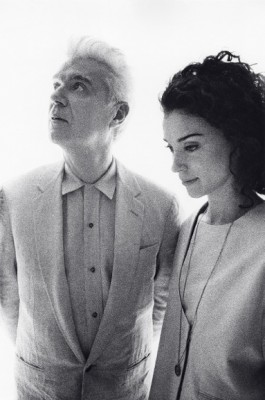 St Vincent has paired up with David Byrne to record a new album, Love This Giant, slated for release on September 10, and the pair are offering a free download of the lead track 'Who'.
Byrne and Annie Clark have been working on the record for two years, co-writing the bulk of the songs and also contributing one individual effort each. The songs feature a brass band and drum programming from John Congleton.
"There was no delineating what the roles were," explains Clark. "It's a collaboration I'm truly proud of."
In autumn, they will head out on tour to promote the record.
"We'll be doing these songs and a bunch of songs that we suspect people will know, with a group that includes eight brass players, a keyboardist and a drummer," Byrne said.
You can download 'Who' at lovethisgiant.com now.