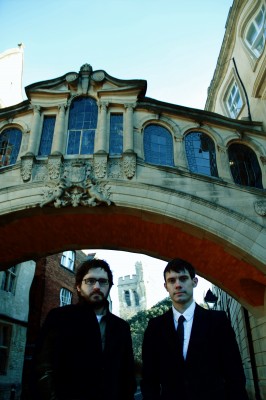 The Dreaming Spires release their debut album Brothers in Brooklyn on Monday and they've given For Folk's Sake an exclusive guide to accompany a stream of the record. The Oxford band were formed by Robin & Joe Bennett, who have played with Danny & The Champions of the World and Goldrush, and they are also the founders of the Truck and Wood festivals.
Click below to hear the album in full, and read on for Robin's track-by-track guide.
Brothers In Brooklyn – The Dreaming Spires by Clubhouse Records UK
1. Singing Sin City
Written in Prospect Park in Brooklyn with Cat Martino; describing our memories on the road with Mark Gardener and the band Goldrush, which Joe & I were in at the time; our tour manager, co-musician and soon great friend Danny Power, and his beaten-up Chevrolet van named Darla. Hearing the Byrds & Teenage Fanclub (on cassette) suddenly made total sense in this situation and planted the seeds for this band. Danny would always describe our notorious after-gig singalongs of songs like the Flying Burritos' 'Sin City' as "the Real Show", and they really were.
2. Everything All The Time
Another key moment for the sound of this record was purchasing the 6-disc Tom Petty box set (from the same friend) on a return visit a couple of years ago, then listening to it non-stop as we drove (I should say, Joe drove) from Joshua Tree to San Francisco. When I met up with Sam Williams (Supergrass, etc) in Oxford we talked about getting a modern equivalent of the Jeff Lynne sound and I had this song, describing the extremes people will go to, and it all seemed to fit.
3. Not Every Song From The Sixties Is A Classic
You can't fail to love the sounds of K-Earth 101 in Los Angeles blasting out the classics, but this song describes the jaded feeling of hearing 'California Dreaming' one time too many, and ot the paranoia that can encroach in the city. Recorded initially at the studio of Two Fingers of Firewater in Surrey while on tour last summer, using their very distinctive organ sound. You'll have to ask them what organ it is. Joe plays the 12-string on this one too.
4. Look At The Stars (They're Really Out Tonight)
A big production, rescued from an old demo by the skills of (Dr) Duncan Williams. Our guitar player Nick Fowler wrote part of this song, and Oxford poet Jenny Lewis helped with the words. I really like the narrative sweep of this song; it includes a true story of a friend's grandmother arriving from Ireland to America as a child speaking no English, and how much has changed since then. We are all connected underneath the stars. Joe adds some epic brass and it's a great drum performance by Mike Monaghan.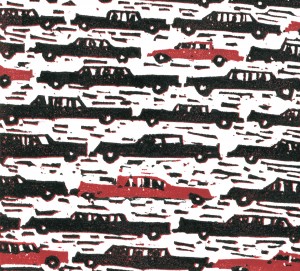 5. Laughing and Dancing
Joe and I traveled to a lakeside house deep in the Poconos in Pennsylvania with Cat Martino to record what we thought would be a gospel album to 8-track tape; this is one of the tracks we produced, and the creaky ambience of the place suits it well. The song is co-written with Nick Holton of Holton's Opulent Oog. Cat adds a lovely vocal harmony.
6. Cathie (Carry On)
This song describes the life story of the above-mentioned Cat, with some poetic licence. Her birth-father was an itinerant musician and the song expresses how the power of music can remain even without any other type of inheritance. Another Sam Williams production.
7. Brothers in Brooklyn
This is a song about writing songs, being in a band, the sweep of history and the compulsion of having to keep on going. Joe and I spent several years going back and forth to the US, and I was amazed to discover out grandfather had lived in New York during WWII, often so impoverished that he had to sell matchbooks in Central Park, at least that's way the song tells it. I also remember seeing Obama right after he was elected, driving in a motorcade down Houston St, and I wanted to share it with people at home. Loz Colbert (Ride, etc) gave this drum track a great Motown propulsion, and several other friends also guest on it.
8. Woman That You Are
Because our guitarist Nick was working in the Music Faculty at Oxford University and Duncan was the audio technician, we were able to sneak in to work on the album there under cover of the night, having long ago run out of money to record. One Sunday we were in the hall used for recitals and I managed to get a version of this song down playing the grand piano, with Joe adding lap steel. I later added some flutes.
9. Just Can't Keep This Feeling In
An older song co-written with Danny Power, we really enjoyed recording this with Sam Williams. Loz created an inspiring drum track, and Joe added a real Motown/McCartney bassline which is doubled on piano. Jason Russo (Hopewell/Mercury Rev) adds some of his trademark pyschedelic guitar towards the end.
10. Strength of Strings
Another older song that I couldn't get right for ages; I finally added the end section which seemed to pull it together and we recorded the track live in the cavernous hall at the Music Faculty, with Loz on drums. Joe added several lap steel and keyboard parts to create quite an epic sound; we wanted to sound like the Everly Brothers or Roy Orbison on this one and I think we almost did it. Again, Duncan Williams brought this one to life.
11. The Dream Inspires
Another one sneaked in on the grand piano, this is a nice way to finish the album, a reminder that music is a dream here to inspire us; however dangerous that dream can be it's better than having none. We definitely believe in the transformational power of music, or we wouldn't still be doing it.
Brothers in Brooklyn is out on Monday. Order a limited edition, hand numbered copy direct from Clubhouse Records and you'll get a FREE signed 7″ vinyl single – click here for details.