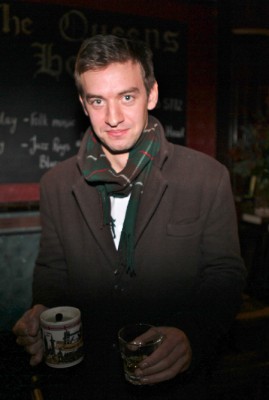 Fans of FFS's long-running New Bands Panel (which is getting an overhaul very soon – stay tuned) should remember Andrew Butler, who got a going over from our panel way back in September 2010. What we found then was a chap who wrote, as our own Helen True put it, "exquisite, intricate, romantic songs that swoop and soar about the place with a deceptive power".
Well, Mr Butler is back, and if he really is the romantic type, it couldn't be better timed as he's putting out his new EP February 14 on, you guessed it, Valentine's Day. This wee set of sweet songs of love, some of it unrequited, will be the second release on Folkroom Records, a new label which has become home to any number of NBP alums, something we can only take as some kind of compliment.
We can only hope they are able to maintain the standards of Mr Butler's excellent EP, which will be available via their bandcamp from February 14th.
In the meantime, you can hear 'A Thousand Words' from the EP and snare a free download of his Johnny Cash cover 'Guess Things Happen That Way' here.