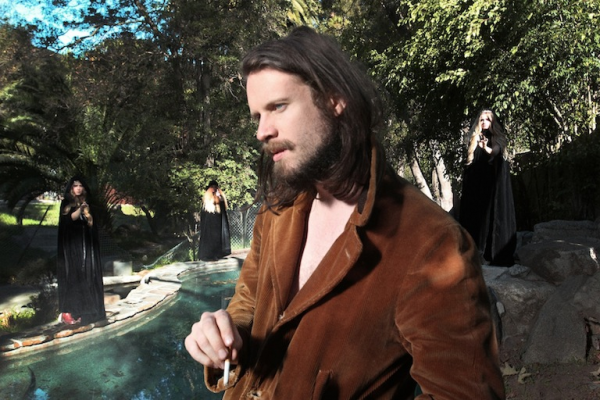 Hot on the heels of announcing his departure from Fleet Foxes, J. Tillman has unveiled the first sounds from his new project Father John Misty, offering up a free download and a video for 'Hollywood Forever Cemetery Sings', and talking at length about what has led to this new stage in his career.
The track is taken from debut album Fear Fun, due for release on April 30.
Father John Misty – Hollywood Forever Cemetery Sings from Bella Union on Vimeo.
Tillman, who has released several solo albums in addition to his work with Fleet Foxes, has also been explaining the need for a new name and a new look to his work, starting off by quoting author Philip Roth at us: "'It's all of me and none of me, if you can't see that, you won't get it'. What I call it is totally arbitrary, but I like the name. You've got to have a name. I never got to choose mine," he said.
"'People who make records are afforded this assumption by the culture that their music is coming from an exclusively personal place, but more often than not what you hear are actually the affectations of an 'alter-ego' or a cartoon of an emotionally heightened persona.
"That kind of emotional quotient isn't sustainable if your concern is portraying a human-being made up of more than just chest-beating pathos. I see a lot of rampant, sexless, male-fantasy everywhere in the music around me. I didn't want any alter-egos, any vagaries, fantasy, escapism, any over-wrought sentimentality. I like humour and sex and mischief. So when you think about it, it's kind of mischievous to write about yourself in a plain-spoken, kind of explicitly obvious way and call it something like 'Misty'. I mean, I may as well have called it 'Steve'".
Speaking about the new record, Tillman admits it was born from an "immobilizing period of depression", but believes the results are the most worthwhile music he has made to date.
"Songwriting for me had always only been interesting and necessary because I saw it as this vehicle for truth, but I had this realization that all I had really done with it was lick my wounds for years and years, and become more and more isolated from people and experiences," he said. "I don't even like wound-licking music, I want to listen to someone rip their arm off and beat themselves with it. I don't believe that until now I've ever put anything at risk in my music. I was hell-bent on putting my preciousness at stake in order to find something worth singing about.
"I lost all interest in writing music, or identifying as a 'songwriter'. I got into my van with enough mushrooms to choke a horse and started driving down the coast with nowhere to go. After a few weeks, I was writing a novel, which is where I finally found my narrative voice. The voice that is actually useful.
"It was a while before that voice started manifesting in a musical way, but once I settled in the Laurel Canyon spider-shack where I'm living now, I spent months demoing all these weird-ass songs about weird-ass experiences almost in real-time, and kind of had this musical 'Oh-there-I-am' moment, identical to how I felt when I was writing the book. It was unbelievably liberating. I knew there was never any going back to the place I was writing from before, which was a huge relief. The monkey got banished off my back."
The album was recorded with producer and songwriter Jonathan Wilson, starting in February of last year, and features any number of different musicians who were invited in to take part.
"Initially, the idea was to just kind of recreate the demos with me playing everything, since they were pretty fleshed out and sounded cool, but a place like LA affords you a different wealth of talent, potential, etc than just about anywhere else," Tillman said. "I realised what was possible between Jonathan's abilities, and the calibre of musicians that are just hanging around LA, pretty quickly. People were coming in and out of the studio all day sometimes, and other days, it would just be Jonathan and I holed up, getting stoned, and doing everything.
"I was honest with myself about what music actually excites my joy-glands when I was considering the arrangements and instrumentation. As opposed to what's been enjoyable to me in the past – namely, alienating people or making choices based what I think people won't like or understand. Pretty narcissistic stuff."
You can snare a download of the new track below.