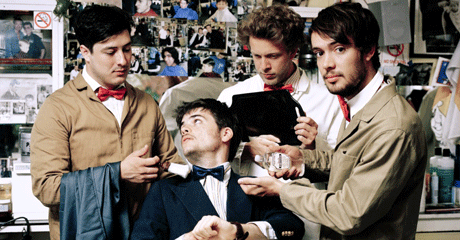 Mumford & Sons have told Rolling Stone that they're putting the finishing touches to their second album.
Bassist Ted Dwane told the magazine: "[The new album is] certainly more mature, I'd say. The second record is just a reflection of our mindsets, where we're all at. It's doom folk, kind of like Black Sabbath meets Nick Drake."
Mumford & Sons' keyboard player Ben Lovett added: "We spent a week in Nashville just writing, the four of us, kind of getting together any individual song ideas we had and playing them out. And then we did the same a few weeks ago down in the west country in the U.K. Even though we're right in the heart of it, even in the studio sometimes doesn't feel as free as it is just playing together. It's brilliant."
Mumford & Sons have had huge success following their debut album 'Sigh No More', which was released in 2009. Ted says: "It's been really affirming because we started out with very humble aspirations. We never thought we'd be commercially viable and we were proved wrong.
"It's been a really great couple of years for the band and I suppose it has instilled us with confidence."