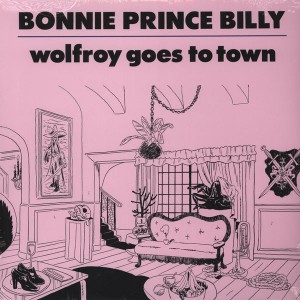 It is hard to believe that this is the 21st album from Will Oldham and 12th under the Bonnie Prince Billy guise. This in its self is worth celebrating, never mind that it is an absolutely beautiful piece of work.
Wolfroy Goes to Town has a very stripped back sound that very much suites the quiet intensity of the lyrics. On songs like 'Cows' his voice joins with backing singer Angel Olson and both voices soar and complement each other beautifully. Topics like religion weight heavily on this melancholic work and there are heavy hints of gospel music throughout the record. But it is not all doom and gloom. 'Quail and Dumplings' is a welcome upbeat song which stops the album from getting bogged down in too much serious subject matter.
This album is easy to get lost in and although dominated by depression there are moments of hope in songs such as opener 'No Match'. Oldham's spectacular voice is the instrument that pushes the record along and really sets the tone of the album. It is a work that should cement him as one of the finest songwriters of our generation and rightly so.
Wolfroy Goes To Town is a fantastic, beautiful piece of work that, although different from his more recent albums, will be seen as a return to form by some as Oldham seems at his best when more stripped back and when his voice and songwriting are allowed to carry the album. A fantastic listen for any Bonnie Prince Billy fans.
Words: Eala Macalister